For many of us, the shift to remote work during the pandemic provided a lot of benefits (a.k.a. less time sitting in traffic and more time in your PJs). But it's also made it more complicated to find work-life balance and create boundaries. When employers or managers are worried about teams staying productive, you've probably found yourself glued to your smart devices — answering emails well past normal work hours or checking your phone for Slack messages — to prove that you can still perform. And whenever you do finally wind down from your day, you're likely using your phones to catch up on your dose of social media and catching up on texts from friends. It's no wonder that smartphone addiction is a real thing.
Our smartphones aren't just overtaking our waking hours, but our sleep, too. It might seem like a harmless act that we use our phones as alarm clocks, hence keeping our phones within arm's reach while we sleep. But it turns out that there are a few great reasons why you should reconsider turning off your phones at bedtime and bringing back an old school alarm clock to wake up in time for your next Zoom meeting.
Blue Light
"Light has the largest effect on sleep. [It] has within its spectrum something called blue light, which isn't actually blue, but it's a wavelength of light between 440 and 480 nm, and when that wavelength hits our eyeballs, it turns off the melatonin faucet in our brain", says Michael J. Breus, Ph.D., a sleep specialist.
So blue light can wreak havoc on your sleep cycle. "Light is the most important indicator of our circadian rhythm. So ideally, you would get sunlight during the day and then avoid blue light exposure at night to regulate your body clock," explains Martha Lewis, a sleep expert and creator of the Complete Sleep Solution. If you look at screens at night, your brain thinks it's daytime and won't produce melatonin, the hormone that helps you sleep. Stop using your phone for one hour before sleep.
EMFs
"Electromagnetic fields from WiFi and Bluetooth can impact your sleep and contribute to insomnia by disrupting your nervous system and damaging your cells," explains Lewis. Fun fact: EMFs are the reason why flight attendants always tell you to turn off your phones during air travel (remember that?) because they can interfere with navigation systems.
With that said, Lewis recommends turning off devices that emit EMFs in your house at night — especially those in your bedrooms like your smartphone, tablet, and router — to "help ensure that the low-level radiation won't interfere with your sleep." Unfortunately for those who prefer to stay plugged in, turning off WiFi in your house isn't enough to prevent EMFs from disrupting your nervous system while you sleep. "If your phone is still turned on, it will be constantly searching for a signal." The best thing to do is to keep your phone out of your bedroom in addition to turning off your home's WiFi. But if it feels like too much of an extra step, try just keeping your phone off or putting it in airplane mode so EMFs don't affect your sleep. You can scan your apartment with a Trifield EMF Meter Model TF2 and Safe Living Safe and Sound Classic RF Detector as our contributor did for this article.
Stress
Another reason to remove your phone from your bedroom is if you wake up in the middle of the night, you might be tempted to look at it. This not only exposes your body and brain to blue light but also might cause stress. "Looking at your phone exposes you to blue light and blue light stimulates and suppresses melatonin," says Lewis. "Since cortisol suppresses melatonin, you're going to have a hard time falling back asleep," she adds. On top of that, "getting notifications, checking to see what time it is, reading the news, and scrolling through social media in the night causes stress, which also raises cortisol levels," she notes.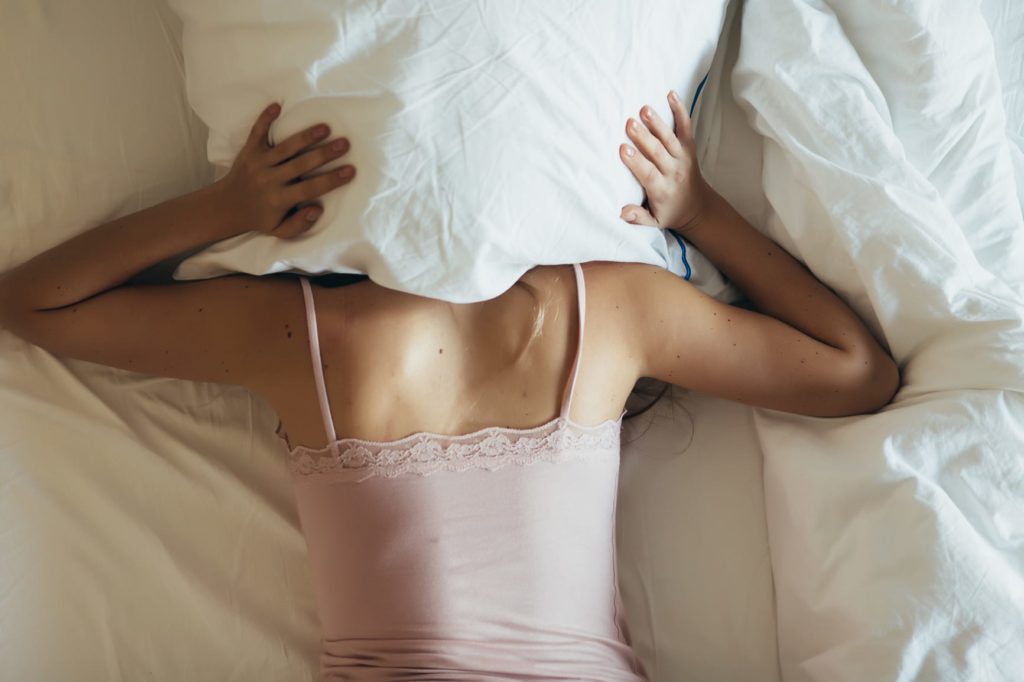 So establishing good sleep habits starts with the ideal sleep environment. Instead of relying on your smartphone, consider adding an analog alarm clock to your bedside (forego the harsh sound of your alarm clock in favor of a bright light that mimics a real sunrise) and rest easy knowing radiation and blue light aren't tampering with your sleep quality.
We only recommend products we have independently researched, tested, and loved. If you purchase a product found through our links, Sunday Edit may earn an affiliate commission.
Sundays should be special.
Sign up for the Sunday Edit newsletter to stay in-the-know on all things skincare and beyond.