Mosquitoes are sneaky little things. If you're lucky (and super attentive), you can sometimes hear their soft, annoying buzz or spot them floating past you out of the corner of your eye. But you don't notice they're there most of the time until they've made a buffet out of your ankles.
It's not such a big deal until you realize the red, itchy spots welting up on your skin. "When a mosquito sucks on your blood to feed, they deposit their saliva into your skin, which your body detects as a foreign substance and results in the release of a natural chemical called histamine," says Dr. Jessica Wu, board-certified dermatologist. "Histamine is what makes your skin in that area swell, itch, and get red. So when you get a bite and you suddenly, sometimes you can feel it before you can see it, that's the result of histamine. It can happen within seconds of the bite because your body's smart at detecting these external substances," she says.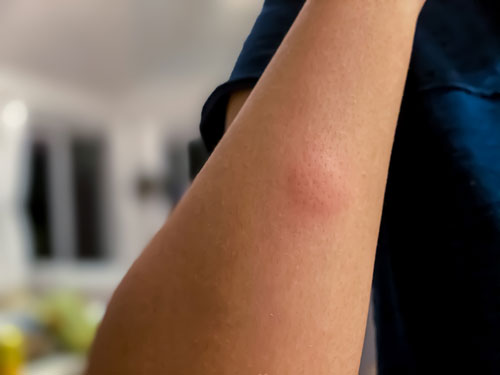 Some people are more prone to getting attacked by mosquitoes. Research shows that mosquitoes are attracted to people with type O blood nearly twice as much as those with type A blood. "Mosquitos are also attracted to your breath — the carbon dioxide that you expel," says Dr. Wu. So, if you're a mouth breather and you're breathing more heavily in the summertime heat, "you expel more carbon dioxide, which excites the mosquitoes and gives them a signal that there's a warm body and they should come close to this person," she says. Other research suggests that the lactic acid that builds up on your skin from a sweat session also makes you more attractive to mosquitoes.
Mosquito Treatments, Ranked
Whatever the reason mosquitoes seem to prefer you over others, it's important not to scratch: "By scratching, you're releasing more histamine into the area, so you are prolonging the itch, the redness, the swelling. And then, even worse, if you scratch off the skin and create an opening, there could be an opening for bacteria to get in the skin so that you could get an infection. And if you scratch the skin and it creates a scab, a wound, and a scab, it's more likely to scar and pigment," says Dr. Wu.
But if the itching is simply unbearable, we asked our pro about the best (and worst!) ways to treat them and reduce symptoms:
Here are the best mosquito bite treatments — in order of a derm's preference:
Antihistamine medication: Whether taken orally (Benadryl, Claritin) or you use a topical antihistamine cream, they are effective treatments for tempering the histamine your body produces that causes itching.
Steroid cream: "Over-the-counter hydrocortisone cream is anti-inflammatory, so because there's inflammation, redness, swelling, and itch, hydrocortisone will also help. I often have people alternate with a topical Benadryl cream, so you're doing both twice a day and calming the itchiness in different ways," says Dr. Wu.
Ice: "It helps in three ways.

One is that the cold temperature distracts your nerve endings from the itch. So ice does soothe the itch.

The second thing it does is that the cold temperature constricts the blood vessels, so constricting them helps with swelling.

And the third is that it slows down the blood flow to the area, so you are potentially limiting the amount of histamine that's being released," says Dr. Wu. Make sure to only keep ice to your skin for no longer than 10 minutes at a time and keep the ice moving around to avoid frostbite, warns Dr. Wu. As a safer measure, use an ice pack or a cold bag of peas instead of placing ice directly on the skin. 
Rubbing alcohol: "Alcohol has a cooling effect. So the cooling effect does distract from the itch. However, if you've been scratching and the bite has been scratched open, the alcohol will sting," she says. So, applying rubbing alcohol with a cotton ball is best as soon as you notice the bite. "The alcohol will kill bacteria on your skin because bites can be prone to becoming infected once, especially if you've been scratching."
Chalk it up to bad social media "advice." Here are the worst mosquito bite treatments: 
Heat: Though this method is a popular choice, it's the worst way to treat your skin, according to our derm. "People might resort to heat as a treatment because any extremes in temperature will blunt the itching — whether it's heat or cold. But I never advise putting heat on a mosquito bite because heat will increase blood flow to the area. It'll increase redness and swelling and itching because it's dilating the blood vessels, and you're bringing more histamine to the area. Plus, you risk burning and scarring your skin," says Dr. Wu.
Fingernails: One of the oldest "tricks" in the book is using your fingernails to create an X on the mosquito to relieve itchiness. "It distracts the nerve endings, so you find temporary relief. But you can't depend on your fingernails to be clean, and you can easily accidentally puncture your skin," says Dr. Wu.
Toothpaste: "Toothpaste typically has menthol so that the minty freshness might give your skin a cooling effect, but it's messy and looks terrible. Ice would have a similar effect," says Dr. Wu.
When to See a Doctor For Mosquito Bites
Though the bites should dissipate on their own in three or four days, "if the mosquito bite is getting bigger and bigger day by day, and if it becomes painful, that's one sign of possible infection. Suppose you see red streaks from it extending up your arm or leg; that could be a sign of infection. If there's pus, or if it gets huge, like say the size of your palm, you may need a stronger medication," says Dr. Wu.
Prevention
If you want to avoid dealing with mosquito bites, arm yourself with these protective tips:
Use a mosquito-repellant spray: Though many methods on the market claim to repel mosquitos – from stickers to citronella candles to wrist bands — a body spray is the most effective way to avoid getting bitten. "While some of those other methods can work to an extent, those devices will not protect your skin as well because mosquitoes can be very smart. If you're wearing your bracelet on your right arm, they can bite your left ankle," explains Dr. Wu. "An insect repellent that you can spray and cover your skin — every square inch of the exposed skin — will repel the bugs from all the exposed body parts," she says. The best part is that modern formulas no longer have that greasy feel and classic bug spray scent. OFF! Clean Feel Insect Repellent II (formulated with picaridin) is designed to feel comfortable on your skin without any stickiness or odor. And, if you have little ones that are mosquito magnets, the new OFF! Kids Mosquito Spray is a natural, plant-based, fragrance-free formula for children as young as six months.
Wear the proper clothing: Though it's easier said than done when it's the dead of summer, try to cover skin as much as you can — or bring a lightweight cardigan to stay protected when temperatures dip at night.
Be strategic about outdoor time: Mosquitos are known to be on the hunt mostly during sunrise and sunrise. If you decide to be outside during those hours, definitely spray up.
---
We only recommend products we have independently researched, tested, and loved. If you purchase a product found through our links, Sunday Edit may earn an affiliate commission.
Sundays should be special.
Sign up for the Sunday Edit newsletter to stay in-the-know on all things skincare and beyond.