You often hear about the classic "pregnancy glow," but if we can be honest, most of the changes that happen to your skin while pregnant aren't always welcome. Stretch marks, varicose veins, and melasma are often thrown into the mix. And, of course, the biggest offender of all: acne.
As the most common skin condition in the U.S., acne can be exacerbated during pregnancy thanks to changing hormone levels, stress, and diets (sometimes those sugary carbs are all a pregnant lady can handle, ok?). Even if you have a pregnancy-safe acne regimen in place and you swore you haven't picked at them, scarring can unfortunately still happen. These scars can appear as red or brown discolorations or as a change in skin texture with the skin appearing depressed or indented, explains Marisa Garshick, M.D., a dermatologist at Medical Dermatology & Cosmetic Surgery (MDCS) in New York.
"Fortunately, many breakouts that are more superficial heal with time without any significantly noticeable mark, while others that are deeper or more stubborn may be more likely to leave a more obvious scar behind," says Dr. Garshick. Pregnant women, in particular, are more prone to developing hyperpigmentation as the increase in estrogen also increases pigment production in your skin. So, even if you didn't develop acne scars before you were pregnant, there's a chance you could get them now. Though acne scarring isn't something to worry about at the end of the day (it is simply your body's response to injury caused to your skin) and is completely harmless, aesthetically, it's understandable if it bothers you enough to want to do something about it.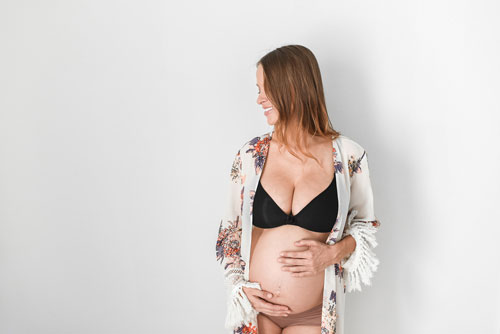 While many treatments are available for acne and acne scars, many are off-limits during pregnancy and during the postpartum period for breastfeeding mothers. "One of the key ways to address acne scarring is by using topical retinoids, as they help promote collagen production and regulate skin cell turnover," explains Dr. Garshick. Unfortunately, retinoids are not safe for pregnancy—both oral and topical. Lasers are another popular acne-scarring treatment targeting discoloration, such as redness or hyperpigmentation, or textural changes such as indentations. Unfortunately, it is best to avoid lasers when expecting, given that most have not been studied in the setting of pregnancy.
Even though these two popular solutions for acne scarring aren't available to pregnant women, there are still things you can do to reduce their appearance. Here, dermatologists share the best solutions they recommend to pregnant patients to alleviate their acne scars. As always, consult your physician if you have any concerns about your skincare routine or if you plan on trying something new to tackle acne scars or any other skin issue.
Meet the Experts
Sunscreen
This one might sound obvious — after all, it's always important to protect your skin from the sun — however, it's essential to do so during pregnancy, when your skin is at heightened sensitivity. "Sunscreen is a key step in helping to prevent and treat acne scars as sun exposure can lead to worsening hyperpigmentation, leaving the acne scar more noticeable," says Dr. Garshick. "For this reason, it is important to remember to wear sunscreen daily." If it isn't already, Sunday Riley Light Hearted Broad Spectrum SPF 30 should be in your skincare rotation. In addition to blocking out hyperpigmentation-causing sun rays, it features turmeric and xanthophyll that are rich with antioxidants that help improve the appearance of redness and promote skin evenness.
Azelaic acid
Azelaic acid is an antimicrobial ingredient that can be used to treat acne and also help with blemishes and discoloration, explains Dr. Garshick. It is considered pregnancy-safe, as shown in animal studies per the American Academy of Dermatology Association, and is available in both prescription and non-prescription formulations. When using an azelaic acid-containing skincare product, it's still important to read the full ingredient label to ensure you're not accidentally applying an off-limits ingredient to your skin.
Chemical peels
While some chemical peels should be avoided in pregnancy, such as trichloroacetic and salicylic peels, some may be considered safe in low concentrations, such as AHAs like glycolic acid, mandelic, or lactic acid, according to Dr. Garshick. By helping to get rid of dead skin cells, these pregnancy-safe chemical peels can help improve skin tone and texture and enhance the appearance of acne scars.
Lasers
Specific lasers, such as the pulsed dye laser, can help to improve acne scars after the first trimester. but the procedure would have to be performed without topical numbing cream, which many people would not tolerate well due to discomfort, explains Dr. Garshick. "A pulsed dye laser can help to reduce red marks left behind from acne lesions and is thought to be safe during pregnancy after the first trimester," she says. "Speak to your obstetrician and dermatologist about any specific recommendations before undergoing laser treatments during pregnancy."
Vitamin C
Vitamin C is a well-researched, super-safe ingredient to use during pregnancy. It's one of the best ways to treat hyperpigmentation associated with acne scars and melasma marks. Plus, it plays nicely with the other skincare ingredients in your routine. Incorporate it into your lineup with Sunday Riley C.E.O. Afterglow Brightening Vitamin C Gel Cream formulated with powerful THD ascorbate that delivers a more even-toned complexion in as quick as seven days.
---
We only recommend products we have independently researched, tested, and loved. If you purchase a product found through our links, Sunday Edit may earn an affiliate commission.
Sundays should be special.
Sign up for the Sunday Edit newsletter to stay in-the-know on all things skincare and beyond.