While some brides-to-be adopt the classic 'what happens in Vegas, stays in Vegas' approach to their bachelorette parties, others have zero interest in dancing, gambling, and boozing. When you envision your pre-wedding getaway with your nearest and dearest, do you see spa days? Hikes through nature? Healthy meals and smoothies? A wellness bachelorette party is becoming more popular — and for a good reason. Rather than feeling hungover for a week post-celebration, you and your pals will return home feeling refreshed, rejuvenated, and ready for the big day.
Here, a guide from travel and party planners on how to throw a memorable — and meaningful — health-focused bachelorette party.
Meet the Experts
Choose your destination wisely.
While you could probably figure out a way to make any destination holistic, it's better to start with a city or town that caters to this theme, says Tori Petry, a travel advisor for Fora. "Think destinations with lots of organic restaurants, spas, and nature. Or, you can choose a resort known for its spa or organic restaurant," she continues. "You want a place that not only provides you with plenty of wellness options but one that sets the tone for the weekend as soon as you arrive."
If you want to travel internationally, it's also worth considering all-inclusive resorts throughout Mexico and the Caribbean that cater to wellness groups, says Jen Avey, the vice president of marketing at Celebration Travel. "These resorts have special events and packages to ensure the wellness theme is prominent throughout your stay," she says. "Working with a group travel specialist can help you find the right venue and wellness bachelorette party package that includes special amenities and events to cater to your group's interests and desires while staying within your budget."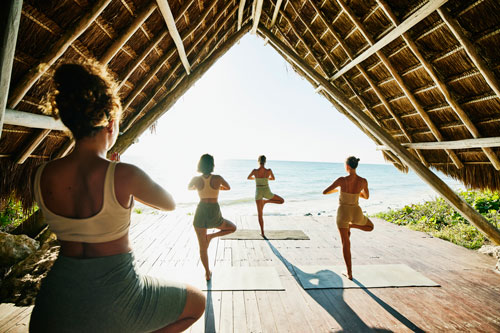 Get moving.
Part of wellness is moving your body — but that doesn't have to mean a super-difficult boot camp class (unless that's your vibe). Plus, as Grace Lee, the founder of Birdy Grey, puts it, nothing brings the happy quite like endorphins.
She says to consider options like private yoga, dance classes, or outdoor adventures like hikes or canoe trips. "There's a lot of research that indicates that being outside is good for our bodies and minds, so be sure to squeeze in some active fun in nature," she adds.
Provide variety and options.
Whether a bachelorette party is wellness-themed or not, Avey recommends providing variety and options to keep all attendees happy. Once the bride has an idea of all the different wellness activities available, she can then pick and choose which ones feel most beneficial for the vibe you want. "We recommend having a nice variety to keep you all from getting bored and satisfy everyone's interests," she says. "This could include a mixture of sunrise yoga, spa treatments of your choice, a healthy cooking class/culinary experience, a nature hike, and so on."
One of the biggest mistakes in party planning is overbooking everyone. Petry recommends keeping mornings slow and light.
Indulge in self-care.
In addition to endorphin-pumping workouts and adventuring, don't forget to weave in self-care activities, too. Lee recommends spa treatments like facials, massages, and manicures to give everyone a bit of zen and relaxation. Don't forget to ask about package deals, since spas or hotels will often offer discounts for a large group booking. You may even have the option to rent out the entire space, creating a one-of-a-kind memory.
Keep mornings slow and purposeful.
One of the biggest mistakes in party planning is overbooking everyone, resulting in frustration, exhaustion, and grumpiness. That's why Petry recommends keeping mornings slow and light. "One of the great things about planning a wellness-focused bachelorette is that it gives the bride a chance to relax during a time typically filled with lots of vendor calls, dress fittings, stress, and last-minute preparations," she says. "Just because you're having a detox weekend doesn't mean there won't be some re-toxing in the evenings, so guests may not want to be rushed to a boot camp class at 7 a.m. Try not to plan anything too early; if you do, make it something relaxing like massages or meditation."
Skew healthy.
While a bride shouldn't deny herself some treats, if the goal of the wellness bachelorette is to nourish her body, skewing on the healthier side of meals is a bright idea. Lee suggests finding a restaurant that has fresh, local food options. "It's easier than ever to track down delicious plant-based food, too. Many cities also have enjoyable group cooking classes, so your pals can get up close and personal with the feast," she adds.
Add in some feel-good moments.
Since you have your body and tummy covered, it's time to turn your planning attention toward the mind. Wellness, after all, encompasses head-to-toe, and feel-good moments go a long way in connecting us to our friends. Event planner Sofia Crokos recommends starting the weekend by writing special notes about what each attendee appreciates about the bride.
Then, as a gift at the end of the trip, she says to give a journal that includes a handwritten note from the bride about what she found the most meaningful with that recipient (i.e., a long-lasting or special moment between the bride and that bachelorette attendee; an experience that meant a lot to the bride). "A rose quartz crystal would also be a thoughtful addition to gifting; it is a crystal of unconditional love, enforcing grounding, healing, gratitude, and progress," she adds.
---
We only recommend products we have independently researched, tested, and loved. If you purchase a product found through our links, Sunday Edit may earn an affiliate commission.
Sundays should be special.
Sign up for the Sunday Edit newsletter to stay in-the-know on all things skincare and beyond.