Two years of sedentary work from home life have taken their toll. We are collectively stiffer, less flexible, and, if you're like me, prone to regularly discovering new aches and pains that simply didn't exist pre-pandemic. For years, I'd taken an efficiency-above-everything approach to fitness — if I was working out, I wanted to be maximizing my effort. That often meant skipping cool downs and stretching and only occasionally scheduling recovery-focused movement like yoga. It appears it's caught up to me.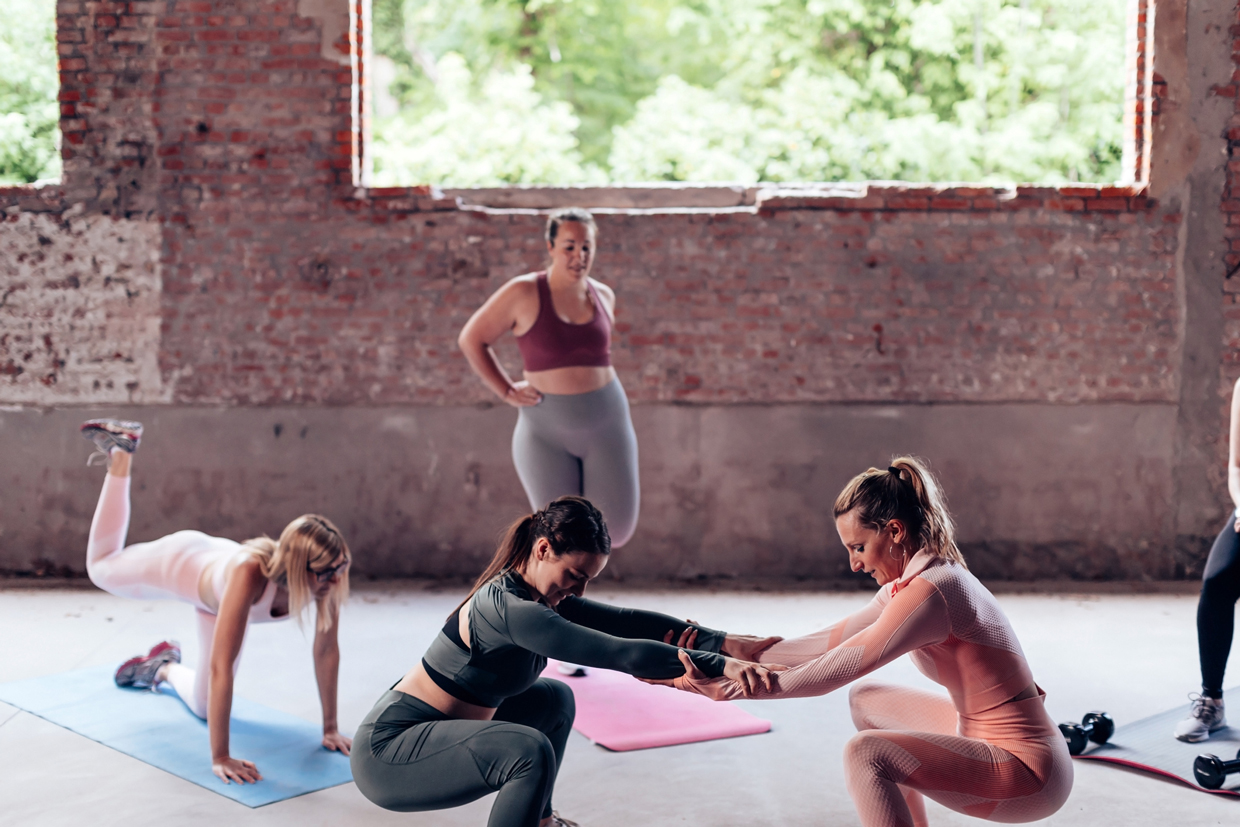 Once I was vaccinated, and the world started to open up again, the first appointment I booked was a session at Stretch*d, a boutique stretching and recovery studio in New York that specializes in "assisted stretching." I'd made my first visit to Stretch*d in 2019, skeptical of the idea. As a writer who's been covering wellness trends for years, I've seen (and tried) just about everything. Couldn't I just stretch myself?
"The idea of assisted stretching has existed for decades in the form of personal trainers stretching out their clients at the end of their one-on-one sessions. But the idea of isolating the stretch into a longer session (without the workout part) is a newer concept," says Amanda Freeman, co-founder of Stretch*d. "The idea for Stretch*d was born from the observation that while most people understand the many benefits of stretching," like improved flexibility, better balance and a decreased risk of injury, "they don't take the time to self-stretch," she says. "When I started to explore the concept, I did some assisted stretch sessions with potential partners, and they were heavenly."
After my first session, I felt transformed — not a word I used lightly. An assisted stretching session feels somewhat like a cross between a yoga class, a spa treatment, and an appointment with a chiropractor. The movements are similar to what you would do on your own — think hamstring or shoulder stretches — but having an extra pair of hands to push your muscles gently, you'll feel the stretch even deeper. (At Stretch*d, practitioners have a background in movement like physical therapy, massage therapy, personal training, yoga or Pilates, and are trained in assisted stretching techniques.) It's also deeply relaxing — almost meditative. Because someone else is doing the work of moving your limbs, it's easy to feel completely present in your body as you feel your muscles release.
Boutique wellness studios specializing in recovery sessions like assisted stretching are more important than ever in a post-pandemic world where we're experiencing record rates of burnout while jumping back into our fitness routines. Recovery should be an important part of our new normal. "The wear and tear of fitness and life in general can wreak havoc on your body, and recovery offerings like stretching, body rolling and compression boot sessions can help to prevent injury, improve workouts and help your body feel good," Freeman says.
Luckily, studios prioritizing recovery, bodywork, and "prehab" are easier than ever to find. In addition to Stretch*d, studios across the country like Stretch Zone, Stretch22, ReCOVER, REACH Stretch & Recovery, BDYSQD and Myodetox are shifting the focus from workout to recovery.
LA-based Myodetox focuses on myofascial treatment. "It really focuses on an area that doesn't traditionally get a lot of love: fascia," says Vinh Pham, co-founder of Myodetox. Fascia is the layer of connective tissue that surrounds every muscle in your body and is designed to stretch with you. "But there are certain things that cause the fascia to thicken and become sticky," according to Johns Hopkins Medicine. "When it dries up and tightens around muscles, it can limit mobility and cause painful knots to develop." Stretching, both assisted and the kind you do on your own is a great way to keep your fascia healthy. But you can also use more targeted treatments like foam rolling or myofascial massage.
Pham first discovered myofascial treatments when he was dealing with shoulder pain, and it opened his eyes to the power of recovery treatments. "Myofascial treatment essentially helps clean and maintain your car properly, so you can return to driving it well," he says. At Myodetox, sessions are run by trained chiropractors and physical therapists who evaluate whether you need to Heal, Reset, or FutureProof your body.
"Heal sessions are focused on injury recovery, like post-operative rehabilitation from knee surgery, low-back strain from an awkward lift, or neck pain from sitting too long in front of the computer," Pham explains. Reset sessions focus on posture and proper form as you move. "Resets do not necessarily mean that you're in pain, more so that you're wanting someone to review your movement and posture and how it pertains to your everyday life. For example, if you sit too long at the computer, you may find your back rounding and your head moving forward," Pham says. "A reset session would focus on reducing the myofascial restrictions that lead you to that posture and providing education and exercises to actively address that postural issue." Future-focused sessions are aimed at prevention. Think: "interventions to strengthen weakened muscles, strategies to optimize movement efficiency, and treatment dedicated to waking up the neurological system," Pham says.
In an ideal world, recovery sessions would be regular parts of your wellness routine. Pham likens it to going to the dentist — you floss and brush your teeth on your own, but you still need regular visits to a pro for optimal health. "Seeing a therapist regularly on a weekly to monthly basis would do wonders for your body and your movement," he says. Similarly, Freeman says that in an ideal world, she'd recommend booking Stretch*d sessions weekly or at least monthly.
The reality is schedules and budgets (and future COVID surges) don't always allow for that. So, what should you be doing at home to prioritize recovery and optimize your self-care? For one, start foam rolling if you don't already. "Foam rolling is a great way to minimize soreness after workouts and improve restricted ranges of movement at the joint," Pham says. "Though foam rolling benefits are often temporary, repetitively doing them may lead to better recovery after workouts."
Freeman recommends three go-to stretches that specifically target WFH stiffness. The first targets your neck: "To stretch the right side, reach your left hand over the top of your head and move your ear down towards your shoulder," she says. "Hold the stretch for 2 seconds and then return your neck to neutral." Repeat this motion ten times and then move to your left side.
Secondly, she recommends "an amazing pectoral muscle stretch. Start with your arms extended out in front of your body (at chest height) with palms facing each other. Swing arms back as far as you can and slightly upward," she says. Hold for two seconds, return to the starting position, and repeat ten times.
And for your lower body, there's what she calls the "double-knee hugger." "It is a comprehensive hamstring, glute and lower back stretch that feels so good," Freeman says. Start lying on your back with both knees bent and your feet flat on the ground. Lift your knees towards your chest, placing your hands behind your knees to assist. Hold for two seconds, return to neutral and repeat.
---
We only recommend products we have independently researched, tested, and loved. If you purchase a product found through our links, Sunday Edit may earn an affiliate commission.
Sundays should be special.
Sign up for the Sunday Edit newsletter to stay in-the-know on all things skincare and beyond.