Pregnancy comes with many changes to your body, your diet, and even your skincare routine. And just as your OB-GYN gives you a list of things to avoid when you become pregnant — alcohol, heavy lifting, and smoking being some of the obvious offenders — so does your dermatologist. The top ingredient on the pregnancy no-no list: retinol.
The controversy with retinol and pregnancy
Retinoids, derived from vitamin A, are skincare superstars for a reason: they do it all. "Retinols increase cell turnover and stimulate collagen to reduce wrinkles, promote elasticity, and reduce oil gland production," explains Michele Farber, M.D., a board-certified dermatologist with the Schweiger Dermatology Group. Retinoids can either be taken orally (such as with a prescription like isotretinoin) or applied topically — both methods can deliver smoother, brighter, younger-looking skin.
Meet the Experts
Michele Farber, M.D. is a board-certified dermatologist with the Schweiger Dermatology Group in Philadelphia.
Though some side effects can happen when using the miracle ingredient even when you're not pregnant, when you are, the risks become more serious. "Oral vitamin A products have been shown to cause congenital disabilities, including cardiac, craniofacial, and nervous system anomalies," says Dr. Farber. For this reason, dermatologists also don't recommend using topical retinoids."Evidence is less definitive with topical formulations, but it is best to exercise caution in pregnancy given the high risks," Dr. Farber says.
The oral retinol ban generally extends to breastfeeding as an extra precaution. But using topical retinoids while breastfeeding is "more of a grey area," Dr. Farber explains. "There is low systemic absorption [of topical retinoids], and it is unlikely that it is transferred in appreciable quantities in breastmilk," she says. "However, no studies show the long-term safety of topical retinoids in breastfeeding. So it is best to be conservative and avoid these products unless you have discussed the risks and benefits with your dermatologist."
Before you freak out about losing a staple of your skincare routine, there are several dermatologist-recommended alternatives safe for pregnancy and breastfeeding that will keep your pregnancy glow going strong.
Pregnancy-safe retinol alternatives
Vitamin C
Vitamin C is often dermatologists' go-to as a pregnancy-safe retinol alternative because, like retinol, it does it all. "Vitamin C is great for stimulating collagen, improving discoloration, and combating environmental damage," says Dr. Farber. It's especially good for protecting your skin against UV damage, adds Hadley King, M.D., a board-certified dermatologist, — the antioxidant decreases photodamage, boosts your skin's wound healing abilities (say, from too much sun exposure), and protects against free-radicals and skin-damaging pollution. It's also been shown to reduce the appearance of fine lines and wrinkles after three months of daily use. It's a powerful part of any skincare routine and safe to use while pregnant or breastfeeding.
Before diving into vitamin C, be advised that not all vitamin C formulations are created equal. "Certain formulations of vitamin C are more stable, and others are less stable, so it is worth choosing the right product," says Dr. Farber. L-ascorbic acid, for example, is powerful but not very stable, meaning it can lose its potency as it sits on your shelf and is exposed to environmental factors like heat and light. (If you have a beauty fridge, vitamin C is one of the ingredients best kept chilled.)
Dr. Farber recommends looking for a formula that combines L-ascorbic acid with a stabilizing ingredient like vitamin E. Alternatively, she recommends tetrahexyldecyl ascorbate (THD ascorbate) vitamin C-based formulas — the same all-star ingredient found in Sunday Riley C.E.O. Afterglow Brightening Vitamin C Gel-Cream. These formulations "may have a deeper penetration into the skin than L-ascorbic acid," she says.
Peptides
Peptides are chains of amino acids that "help give the skin the building blocks for collagen," says Dr. Farber. And like retinol, they help boost collagen production to reduce fine lines. Scientists have been studying the collagen-related skin benefits of peptides for years, but recent research shows that certain formulations can even produce a "Botox-like effect," says Dr. King. (Look for products containing Argireline for this benefit.) The best part? Peptides are safe to use in pregnancy.
Bakuchiol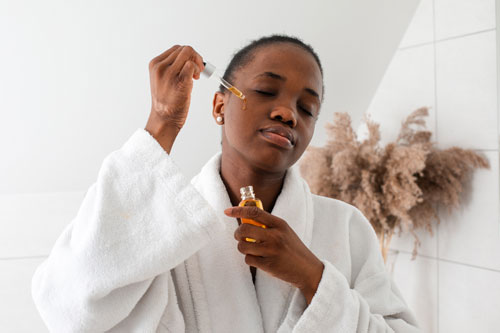 This under-the-radar skincare ingredient is a plant-derived retinol alternative with roots in Ayurvedic medicine and one of the few retinol alternatives that deliver the same science-backed, wrinkle-reducing benefits, says King. In one 2019 study published in the British Journal of Dermatology, researchers found that "bakuchiol and retinol both significantly decreased wrinkle surface area and hyperpigmentation, with no statistical difference between the two compounds." And as a bonus, study participants who used bakuchiol reported more minor irritation than retinol. An earlier study published in the International Journal of Cosmetic Science found that 12 weeks of bakuchiol use improved skin elasticity and firmness. Scientists are still learning about bakuchiol and how it affects the body, but it appears to work like its vitamin A-derived cousin by activating the same genes that trigger collagen and elastin production in your skin, explains Dr. King. Plus, it's not as irritating to the skin. "Bakuchiol is touted as safe in pregnancy, but it is worth discussing this ingredient with your dermatologist as studies are still emerging," says Dr. Farber.
What to expect when you switch from retinol
Retinol famously takes some getting used to when you add it to your skincare routine — it can cause skin purging, dryness, and redness until your skin adjusts to the increased cell turnover. Similarly, cutting retinol out of your routine when you're pregnant can cause many of the same (temporary) effects. "Your skin can break out, may feel more oily, and possibly dull," says Dr. Farber. As your skin adjusts, a pregnancy-safe retinol alternative will help mitigate the effects.
---
We only recommend products we have independently researched, tested, and loved. If you purchase a product found through our links, Sunday Edit may earn an affiliate commission.
Sundays should be special.
Sign up for the Sunday Edit newsletter to stay in-the-know on all things skincare and beyond.