There's not a lot that vitamin C can't do. Its benefits run the span of reducing the look of fine lines and wrinkles, protecting against UV-induced photodamage, improving hyperpigmentation, and promoting collagen production, says Emily de Golian, M.D., dermatologist and Mohs Surgeon with Dermatology Consultants, P.C. Overall, vitamin C gives your skin that same glow you feel after getting a full night's rest and having a fresh, cold-pressed glass of green juice. Though vitamin C is generally a well-tolerated ingredient across all skin types, people with sensitive or highly reactive skin always need to be wary about introducing new ingredients — whether it's vitamin C or another active — into their beauty routine.
"Someone with a normal baseline will not likely react poorly to vitamin C. However, it can have adverse effects on sensitive skin and rosacea skin types if the wrong formulation is used," says Dr. de Golian. But, that doesn't mean you need to toss your vitamin C products or entirely avoid them. It all comes down to being smart about choosing the right type of vitamin C for your sensitive skin and a little bit of know-how. Below, we guide you on the dos and donts.
Choose a non-irritating type of vitamin C.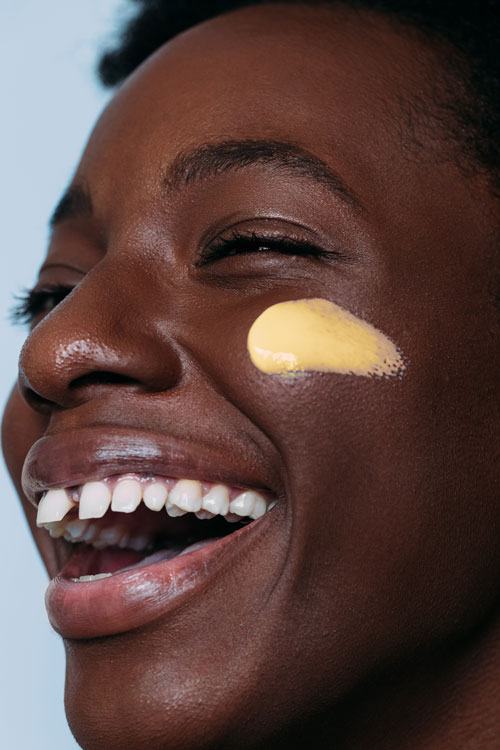 "L-ascorbic acid is a popular, highly effective form of vitamin C. A low-pH formulation is required to keep this hydrophilic — a.k.a. water-loving — version stable so that it can be more irritating," says Dr. de Golian. In other words, since L-ascorbic is highly acidic, it's not as compatible with people with sensitive skin and can result in adverse reactions like redness or peeling. "Magnesium ascorbyl phosphate (MAP), tetrahexyldecyl ascorbate (THD ascorbate), and sodium ascorbyl phosphate (SAP) are all more gentle yet still highly effective and stable forms of vitamin C," she says.
For instance, Sunday Riley C.E.O. Afterglow Brightening Vitamin C Gel Cream nourishes skin with high-potency THD ascorbate. It's powerful, stable, and clinically proven to brighten the appearance of skin and can reduce signs of premature aging.
Introduce vitamin C slowly.
Though there are types of vitamin C like THD ascorbate that are specifically great for sensitive, reactive skin (and for most people, can be used daily right off the bat), it never hurts to gently introduce actives into them your routine out of an abundance of caution. If you're new to vitamin C, start using it a few times a week and increasing the number of applications per week as your skin adjusts.
Or, consider patch testing by applying to a small, inconspicuous spot like the side of your neck for a week or two to check for any adverse reaction before applying to your entire face.
Check the pH and concentration of your product.
One of the biggest drivers of this skin irritation in vitamin C-containing products is its pH level. "Normal skin pH is around 5.5, but some vitamin C formulations require a low pH, around 3.5, for stability and efficacy," Dr. de Golian explains. "In patients with sensitive skin, seeking formulas with a physiologic pH closer to 5.5 will lead to greater tolerability, and thus efficacy, of the product."
People with sensitive skin should also take a look at the ingredient concentration. "Lower vitamin C concentrations, around 10 percent, are more gentle on the skin, whereas normal skin may tolerate 15-20 percent concentrations," Dr. de Golian says. Take this with a grain of salt, however, since it will also depend on the formulation and what is used in the formulation to carry the vitamin c into the skin. Regardless of the formulation, "application tricks like mixing compatible vitamin C products with a plain moisturizer or applying moisturizer as the first step in a vitamin C-containing skincare routine, after cleansing, will essentially dilute the product, so it's better tolerated."
Be smart about how you layer and combine products.
Though vitamin C pairs well with many other ingredients, those with super-sensitive skin should take the necessary precautions (patch testing, slow introduction) when combining actives. Also, sometimes it's not the vitamin C itself in a formula that can irritate, but the other ingredients in your products that make skin uncomfortable. Vitamin C in the form of THD ascorbate works well with AHAs and BHAs, niacinamide, and even retinoids. Still, if you're using L-ascorbic acid or another less sensitive skin-friendly form of vitamin C, you may experience discomfort.
Always check with your dermatologist.
If you're not sure why your sensitive skin is reacting negatively to your routine or want to tweak the ingredients you use, it's essential to keep your dermatologist in the know. It could be a deeper issue rather than the vitamin C alone — they can help rule out common skin conditions such as eczema, rosacea, or atopic dermatitis that are common causes of discomfort for sensitive skin. It may save you time — and your skin from irritation — instead of playing mad scientist at home.
---
We only recommend products we have independently researched, tested, and loved. If you purchase a product found through our links, Sunday Edit may earn an affiliate commission.
Sundays should be special.
Sign up for the Sunday Edit newsletter to stay in-the-know on all things skincare and beyond.