You might only think of food waste during specific holidays (Thanksgiving, obviously) when the tradition is to gather family and friends over a massive quantity of food. But the truth is, major food waste is happening every single day — not just by companies or restaurants, but on a consumer level, too. According to RTS, an environmentally focused waste and garbage disposal company, 80 billion pounds of food is thrown away each year in the U.S (that's approximately 220 pounds of waste per person).
Why do Americans waste so much food? Truth is, it's hard to say, but according to certain studies, it's simply because we can. It's almost most likely because expiration rules in the U.S. can be pretty confusing. For example, just because these eggs are "best by" a certain date, when does it become "bad" to eat? Though the USDA breaks down the date-labeling terminology here, most people don't have the time to think about it, and we'd rather throw it out than risk a stomachache.
Plus, now that we're a year-deep into the pandemic, we've become reliant on take-out — whether you simply don't have time for cooking meals three times a day, or your favorite restaurants are still closed to on-site dining. The result is way, way more trash, according to Treehugger, a sustainability site. It's also hard to gauge how much food a restaurant will give you, and Americans are apparently terrible at eating leftovers. (Let's not even get started on the plastic garbage waste that simultaneously happens when we order in.)
Tossing food is not only detrimental to your budget (Americans waste more than $161 billion on food every year), but it has a global environmental impact. It takes up water and energy to break down the food that ends up in landfills, which generates 6% of the world's greenhouse gases that fuel global warming. Luckily, there are a few ways to take action and all they need is a click of a button. Read on for free apps you can download that help consumers waste less, shop and eat smarter, all while curbing gas emissions into our environment.
Food For All
Download for iPhone
Download for Android
If you're based in Boston or NYC and love to order take-out, this free app lets you order surplus meals from restaurants and café for at least 50% off (we found meals that were as low as $5). It's at a deeply discounted price, particularly towards the end of the day when restaurants know closer to closing time if they're not going to sell through their menu and risk their food/ingredients ending up in the trash. All you do is reserve a meal, pay directly through the app, and head to the restaurant to pick up your meal.
Too Good to Go
Download for iPhone
Download for Android
Like the Food For All app, this one has a wide range of restaurants, markets, and bakeries that sell discounted, unsold food in what they call "Surprise Bags." Unlike Food For All, you don't get to pick exactly what you get since it depends on the surplus that the restaurant has for that day, but the app will give you a sense of what type of food and products they usually include in their Surprise Bags. Since its launch in 2016, the app has saved over 60 million meals from ending up in waste. One of our favorite recent finds? A bag of groceries for just $3.29 in NYC. The app is also active in many European countries.
Olio
Download for iPhone
Download for Android
If you've got spare stuff to share, Olio lets you connect with nearby neighbors so you can give away extra meals or ingredients that you know you're not going to be able to consume. When you're not giving away or picking up food, the app has a separate section for goals where you get points and badges for completing certain environmentally friendly actions like using a bamboo toothbrush or purchasing reusable grocery shopping bags. The higher the points, the bigger you impact you're having on your carbon footprint, which gets tied to your profile.
Flashfood: Grocery Deals
Download for iPhone
Download for Android
This app not only saves you money on groceries (up to 50% off), but you save food that's near the end of its sell-by date from ending up in the trash. Don't worry, they're definitely not expired. A "sell-by" date simply tells the store how long to display the product for sale — not the date that determines when it's safe to eat. Predominantly a Canada-based app, U.S. customers in Illinois, Indiana, Kentucky, Michigan, New York, Ohio, Pennsylvania, and Wisconsin also have Flashfood options. It's great for meats that can easily be frozen and enjoyed long after you purchase, or for last-minute meals that you didn't plan to make that week.
No Waste
Download for iPhone
Download for Android
Ever get to the grocery store and can't remember if you already have an ingredient? NoWaste helps you manage your home's food inventory, which is key to preventing overbuying that leads to food waste. The app claims that by using it, the average family can save up to $1,000 a year in addition to helping out the environment. It features a receipt and barcode scanner to easily list out all the food in your fridge and pantry. Plus, it has handy expiration reminders and a shopping list so you can write down what you need as you remember them.
SuperCook
Download for iPhone
Download for Android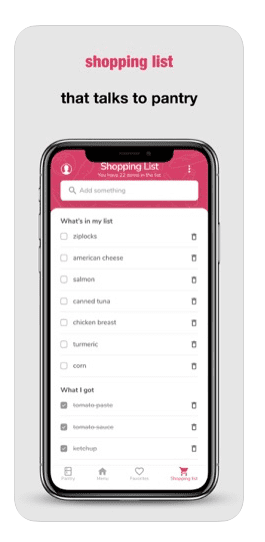 This app doesn't market itself as an app that prevents food waste, but the idea is completely eco-friendly: SuperCook lets you add any mish-mosh of ingredients that you have in your house and it instantly finds matching recipes from hundreds of different cooking sites. Not only will you discover a new recipe, but you'll use up ingredients that you already have and don't know what to do with. You can filter the results by the key ingredient(s) — say, you desperately need to use up your soon-expiring broccoli and cream cheese. Or, you can browse by meal type, diet, cuisine, rating, recipe time, max number of ingredients, plus nutritional value (e.g. if you're looking for a high-protein meal).
Sundays should be special.
Sign up for the Sunday Edit newsletter to stay in-the-know on all things skincare and beyond.