Pour the honey and spread it thick, astro babes. May's cosmic medicine is a rich, rose-dipped invitation to dilate open towards what just feels good. A pleasure chest of celestial treats, the month asks us to mine our inner width, creating a spacious base for courageous cravings that spring from inner satiation instead of scarcity.
Ruled by the fat, buttery Taurus Sun, the energy is a fertile hothouse of creative becoming, reminding us that our warm breath and bods are all we need to "make it happen." Even if you are not able to be "in" the world right now, remember that you are a profound part of it. And with magnetic Venus stationing retrograde in Gemini, it is high time to see ourselves reflected in the eyes of our ecstasies, vivid and alive because of our capacity to love what we love.
Where are you caught in sweat-reward mode, believing that your right to enjoyment is contingent on your arduous effort? Whether it is starting with dessert or sleeping 'til noon, May is for breaking the endless input-output cycles and bowing to our actual inner rhythms instead, snacking on whatever meat most fuels our magic.
So let it hang low, ripe and easy and reach for the full-bodied beauty that is already ready to fall into your open palms.
Read on for your sign's inner beauty secret for May and get ready to glow from the inside out.
TAURUS OR TAURUS RISING
April was about your pause and your parentheticals, Taurus, as you cultivated spacious, scramble-free timing. Now, in the full bloom of your astrological birthday season, May's energies want you to quit begging for wonders from the outside world, and lie down at the foot of your very own teachings instead. What is your core curriculum, mined from personal experience rather than blind inheritance? Sidle up to the head of the class and claim the knowledge you have already earned.
Inner Beauty Secret: Ancient Wisdom. Explore tried and true beauty tips from history and connect to your inner Cleopatra's timeless glow.
GEMINI OR GEMINI RISING
April was all about the unity, Gemini, as you befriended long-lost parts of your feeling fam and came in from the cold. With Venus stationing retrograde in your sign this May, the focus continues to feed your inner waters, and asking you to remember your capacity for shapeshifting evolutions. Where could you step outside your element right now? Where could a lighter hold on certainty help the surprise party of your life assemble the celebratory next step all on its own?
Inner Beauty Secret: Sleep. Surrender to gorgeousness by rolling in the sheets and letting your cells mend themselves all on their own while you simply slumber.
CANCER OR CANCER RISING
April was fit for feasting on your accomplishments and sitting pretty atop your laurels, Cancer. As May's energies awaken your out-there zone of potential imaginings, the pace quickens, and it starts with a clean and clear reckoning with parts of your past. Consider what it might mean to court these ghosts rather than cordon them off. Look them straight in the eye. Seduce them. And then leave them in the diamond dust, no less loved for having been let loose.
Inner Beauty Secret: Bonfires. Creative composting is your literal and symbolic key to lusciousness. Ignite it, toss it to the winds, and let the ash fuel brand new open space.
LEO OR LEO RISING
April found you exploring cause and effect, as you considered just how your heartfelt longings reverberated with your loved ones. After this exercise in care-filled consideration, May welcomes you to the head of the boardroom banquet table, asking you to strike a power pose that is organic. Begin by remembering that you are always felt without having to force it. Where can you make an impact that is innate, trusting that your presence is more than enough? Just show up and hold your shape, little love cat.
Inner Beauty Secret: Boosters. Whether it is magical herbal elixirs or a plain old gummy multi-vitamin, May wants you to build it beautiful from the bones up.
VIRGO OR VIRGO RISING
April was fit for heating your hot tub, as you felt into the wildness and width of your true desires. May is here to bring on even more of that bountiful spaciousness, as you learn to let your most color-saturated feelings lead the way. What if rage could illuminate? What if tears could carry you in a river? Or laughter could break the very walls? It is your month for letting inner pulsations cut an uncharted path through your external life. Opening wide to the sensation opens all roads, Virgo.
Inner Beauty Secret: Emotion. Become an epicure of your most rainbowed emotional turf, giving each shade of joy and pain you experience its own place in your palette.
LIBRA OR LIBRA RISING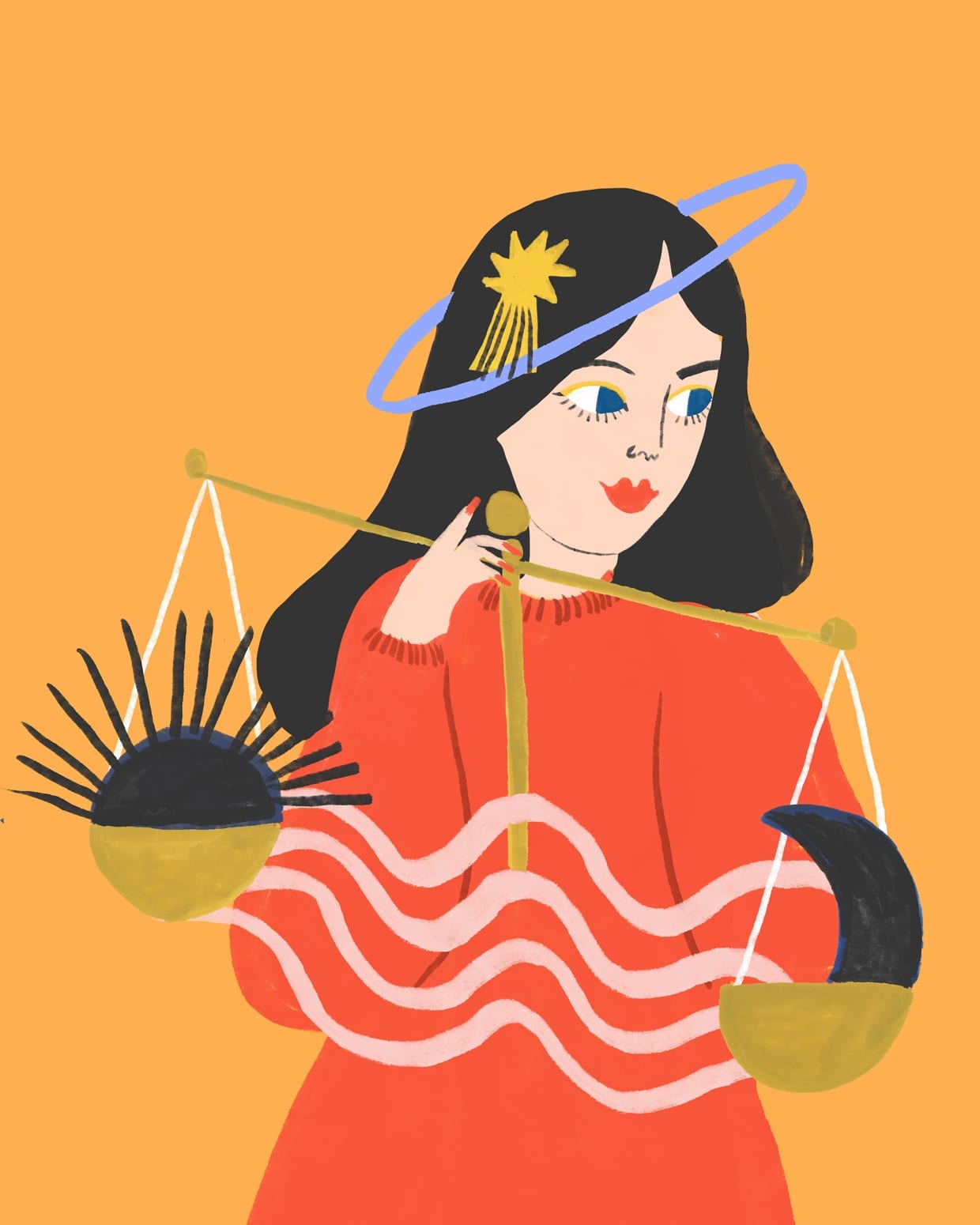 April asked you to pay homage to your inner diamond, excavating your multi-facets and fully owning these precious gems. Now in May, with your ruler Venus going retro, it is time to come into an even deeper possession of your complexities, claiming the entirety of your beautiful, messy existence. Did you know that scar tissue is actually stronger than original skin? Rather than bowing at the altar of some distant day when you will be fully "fixed," 'tis the season to turn battle wounds to beauty marks.
Inner Beauty Secret: Sweat. Whether it is heart-racing aerobics or a steam session in your bathroom, May wants your self-possessed power coming out of your pores.
SCORPIO OR SCORPIO RISING
April was your sanctuary, Scorpio, as you focused on the careful care of your own-and-only self. With May's energies activating your zone of horizon lines, asking you now to explore your established boundaries, considering how you "fit" into your own life right now. Is there an extraneous matter that needs sloughing off? Can you adjust your approach without compromising your essence? Let this month remind you that coloring within the lines can be a celebration rather than a constraint.
Inner Beauty Secret: Sacred Geometry. Whether it is dancing flush with the four walls of your home, or noticing the perfection of nature's shapes, May is made for inner contouring.
SAGITTARIUS OR SAGITTARIUS RISING
April was made for emboldened declarations, Sag, as you practiced exposing more of your scratch-n-sniff tenderness. May's medicine calls you back to the inner hearth, indoctrinating you into a carefully calibrated rhythm of self-development. What is your relationship to "right timing" right now? Are you trying to push the river? Are you adjusting your speed based on external demands? This month asks you to find majesty in the proprietary pacing of your own natural evolutions. Let it unfold and unfurl with ease.
Inner Beauty Secret: Ritual. Take May to transform even the most mundane of movements into high art, bringing intention and elegance to your everyday routines.
CAPRICORN OR CAPRICORN RISING
April asked you to consider the source, Cappy, as you remarried your root chakra and figured out exactly what sustained you. Now, sweet one, it is time to get horizontal on that precious ground you have created, resting your bones and remembering that you have the right to be utterly at home in the world. What have you already reached? What is already full? What needs nothing else but your regard for it? May is your month to simply "behold," trusting that what is here is whole.
Inner Beauty Secret: Second Helpings. This month, divinity comes from a full cup. Pursue your plain and simple appetites straight to the party platter.
AQUARIUS OR AQUARIUS RISING
April ushered you into the breezy world of "what ifs," as you explored your "why" with a wide-open soul. The energies of May bring you in for a landing, capitalizing the T in your Truth, and teaching you about surety. Rather than "being right," it is about a natural state of rightness, right now. Come back to yourself and back yourself without a doubt, Aquarius, resting in the arms of your inherent authority like an ancient tree.
Inner Beauty Secret: The Four Elements. Get back to basics, opening the window to the breeze, walking briskly in sunlight, laying your body on the earth, or dipping into the bathtub.
PISCES OR PISCES RISING
April asked you to slide behind the wheel, Pisces, wielding greater authority over your life legacy. May's medicine continues this exploration of impact, inviting you to notice how you absorb the emotional climate around you. While you sometimes fear too much touchy-feely uptake from others' force fields, this month wants you to practice becoming a psychic medium of sensation. Let whatever is arising around you pass through you like a sweet breeze, and only take from it the petals that best feather your nest.
Inner Beauty Secret: Art Appreciation. Let yourself be moved by tangible emotional creations, remembering that even the subtlest sensations deserve a sculpture.
ARIES OR ARIES RISING
April was an invitation to dance with your own life-death cycles, Aries. And now, in the deliciously minimalist clearing carved by whatever luggage released, you get to dream again. Rather than strategic five-year plans, May is your hotel suite of imagining, ripe for crushing on whatever is catching your eye. Live in the space before you kiss it on the lips and shout it from the rooftops. And let your hopes become a sumptuous secret pillow that is fit for holding your precious head.
Inner Beauty Secret: Fantasy. Tend to the parallel universe that runs alongside the pragmatic, reminding yourself that "reality" is whatever you deem to be most real.

We only recommend products we have independently researched, tested, and loved. If you purchase a product found through our links, Sunday Edit may earn an affiliate commission.
Sundays should be special.
Sign up for the Sunday Edit newsletter to stay in-the-know on all things skincare and beyond.