The minute February hits, everything around us transforms into familiar shades of pink and red. If you have a special someone in your life, this time of the year may be stressful. Worries about picking the perfect gift or getting reservations at the highest-rated restaurant on Yelp can take a toll. But it is also the sweetest month of the year, as Cupid fires his arrows. A month of overindulgence — more desserts, texts back and parties.
However, you shouldn't forget to take some time to celebrate your friendships this month. As science tells us, friendship has the power to boost happiness, reduce stress and improve your sense of self-confidence and self-worth. This is where Galentine's Day comes in. We can thank Leslie Knope of Parks and Recreation for its introduction. After all, she threw her own waffle-filled party back in 2010.
The holiday is centered around platonic love and the role of friendships in our life. When else can we celebrate those who are there for us when we need to vent, get our mind off things or go to brunch? They hype us up and help us decide which of the five photos you sent to add to your feed.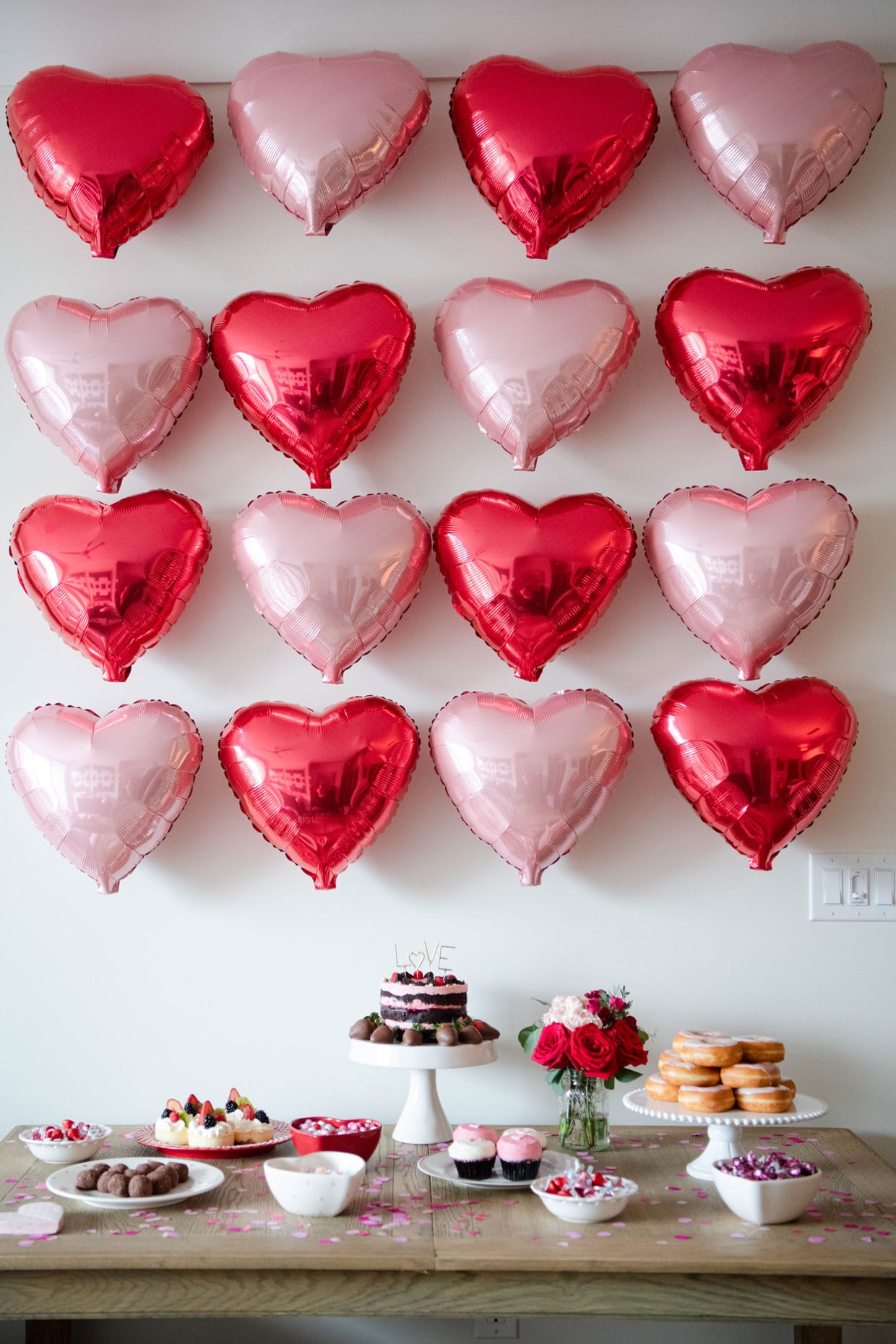 While Galentine's Day is officially February 13, according to both Knope and Urban Dictionary, I say you can celebrate any day of the month. The Sunday Edit team celebrated early and we want to show you how to throw the perfect party – one that everyone will gush over and add a photo of you to their IG story with the words "hostess with the mostest."
Décor
Décor is everything when it comes to a themed party. You can always buy a pre-made "XOXO" or "Galentine's Day" banner, but you can also create the perfect backdrop yourself, like this IG-worthy heart balloon wall. As for everything else, this is your chance to go all out with heart-shaped red, pink and white everything! Grab some cute themed napkins, bowls, sparkling cake toppers, candles, table runners and anything else you would need to create the most decadent dessert bar.
Food & Drinks
This is the time to treat yo' self (and your friends)! Order that Milk Bar cake you have had your eye on for the last six months, and stand there proudly as everyone's blood sugar rises while overindulging in chocolate truffles and a slice of chocolate raspberry jam cake. But no Galentine's Day party is complete without some chocolate-covered strawberries, a cake-stand filled with tiered pink and white donuts and mini cheesecakes. Go ahead and throw in some Valentine's Day-themed M&M's and conversation hearts. You can even go the extra mile and have them customized with a special message for your gal pals. Lastly, add in some gluten-free and/or vegan cupcake options for your friends with dietary restrictions.
As for drinks, stock up on the classic Champagne, prosecco, and rosé, but make sure to throw in fun mixers like Dirty Lemon waters. For your friends who abstain there is Kin Euphorics non-alcoholic alcohol or CBD-infused Recess.
Activities
The key to throwing the best Galentine's Day Party is to round-up activities to bring you all closer together (as if that is even possible).
1. Nail Art
#Valentinesdaynails has more than 88,000 posts on Instagram, in case you are looking for some nailspo. We personally love J. Hannah and Deborah Lipmann polishes for their nontoxic formulas. You can also order some themed nail stickers to really up the ante. If you really want to surprise your friends, you can hire someone to come paint everyone's nails. Glam Squad was specifically created for the extra.
2. Flower Crowns
Coachella came early this year. If you are looking for a unique party activity, might we suggest a flower crown workshop? The team from Picked Flower Co. attended our party to help us make our flower crowns. But if there is not an instructor in your area, all you need is a YouTube video, fresh flowers, craft wire, floral tape, scissors and ribbon.
3. Gratitude Letters
We challenge you to be more expressive with your feelings this year; life is too short. Spend some time at the party writing each other a paragraph or two about what you appreciate about one another. There are so many cute themed cards out there. Plus, you get to break out your glittery gel pen collection (or take this as an excuse to finally order some).
No girl's night inis complete without a little healthy competition and a lot of laughs. For the Girls was created for this very occasion. There are five category cards to choose from: never have I ever, most likely to, rapid-fire, best of the best and truth or dare. Watch your friends squirm as they are dared to order a steak over the phone at McDonald's. If you like variety, Buzzed is a great game to get everyone tipsy. We love That's What She Said, as it brings out the teenage boy who remains idle inside of all of us. You cannot go wrong with a round of What Do You Meme especially if you have the Mean Girls or Real Housewives expansion packs on hand.
5. Tarot Reading
It would be such a shame if the spirits didn't snag an invite. Hire a tarot card reader to attend your event and give everyone a personal reading. Who doesn't want to know if that cute boy you met at the coffee shop will text you back?Or if you will finally get that raise you've been hoping for? You can also opt to buy a deck of your own and be the designated reader for the day.
6. Skincare Bar
Every slumber party montage ends with girls lounging around in face masks. Bring that same energy to your party with a skincare bar. Once all of the photos have been taken, change into something cozy and mix Sunday Riley's Ceramic Slip and Good Genes for an instant flash facial. Your friends will thank you as you have saved them from having to do their night routine once they are home and exhausted from all of the fun they had at your party. Last, but not least, while you lounge around waiting for the skincare to soak in and the nails to dry, play a movie! Pretty Woman, 27 Dresses, The Devil Wears Prada and La La Land are staples.

Have Fun
As you get older, it is so much harder to make time for those you love, as everyone starts their own family, moves far away or is perpetually crammed at work. So put that phone down — you never know if you will get this moment again. Life is busy, but Galentine's forces us to pencil- in some much-needed quality time with our friends. All of your nearest gal pals are in the room with you, so leave your problems at the door and soak in the joy that is platonic love.
Shot on location at Grey House Apartments, River Oaks District, Houston, Texas.
We only recommend products we've independently researched, tested, and loved. If you purchase a product found through our links, Sunday Edit may earn an affiliate commission.
Sundays should be special.
Sign up for the Sunday Edit newsletter to stay in-the-know on all things skincare and beyond.