When it comes to skincare, I'm usually down to try pretty much anything. I was most scared of injectables and needles. Still, after having such a positive experience with injectables when I first tried neurotoxin treatment for my TMJ syndrome, I thought I had conquered all my fears.
But then, there's that one iconic scene in Sex and the City where Samantha got a chemical peel, and her face looked like a big swollen tomato. That scene is burned in my mind whenever I hear of skin treatments that "may" result in even the slightest bit of redness. So, I was just a little hesitant when offered to try the latest microneedling treatment called Vivace®.
But upon reminding myself I'm much closer to being 40 than I am 20, and I need to start giving my skin some serious TLC alongside my tried and true skincare regimen, I decided to try it out. And I'm so glad I did. After two treatments, my skin looks and feels noticeably smoother and plumper.
To understand more about how Vivace® works and to experience it for me, I met with Allison Lester, PA-C at Park Avenue Skincare, a national board-certified and New York-licensed physician assistant specializing in medical and cosmetic dermatology. She explained how Vivace® works, what I could expect, and then, she Vivace®-d me up — twice!
How Vivace® Works
Vivace® is a skincare treatment that combines radiofrequency (RF) and microneedling that is then followed by a special serum and cooling mask. It boasts results that include tightened skin, improved tone and texture, alleviation of wrinkles and fine lines, and minimizing the appearance of pore size. It also has immediate results, minimal downtime, and is virtually pain-free. Allison explains, "Vivace® works by creating channels of very controlled, precise, thermal injury in the deep layer of the skin, which stimulates your body to produce new collagen to repair the injury. This new collagen plumps skin as well as improves acne scars, enlarged pores, fine lines, and wrinkles."
The machine itself almost resembles a giant Ipad on wheels, with a digital screen and a handheld attachment that carries out the treatment. The attachment has a series of what look like tiny little blades that do the puncturing, but it looks more intimidating than it feels.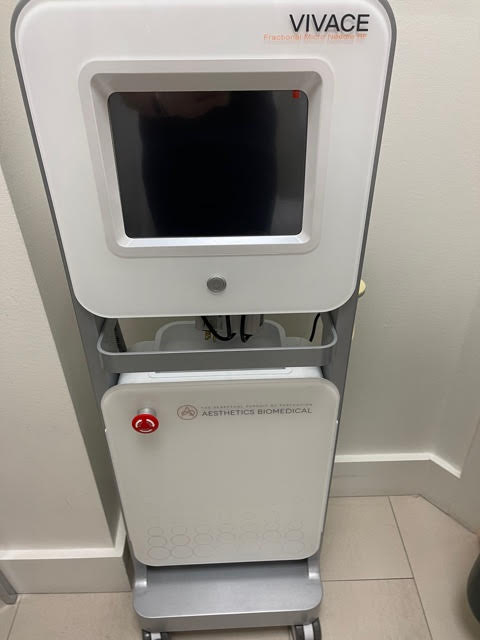 Preparing for My First Vivace® Treatment
While preparing for my first treatment, the office reminded me not to use any potentially harsh skincare ingredients like retinol or acids for a couple of days before my appointment. When I first arrived, Allison and I spoke all about the treatment and the mechanisms of how it works, and she cleansed my face and applied toner to make sure all my moisturizer from that morning was gone.
I was surprised to learn that all patients are recommended to take a prophylactic anti-viral medication called Valtrex just before and for a couple of days after the treatment to prevent the herpes simplex virus (aka — cold sores) from flaring up from the microtrauma of the treatment. I had no problem taking the medications just in case, but nothing ever happened.
Allison then applied a topical numbing cream all over my face and let it get to work for the next 20 minutes or so. Once I was all numbed up, she removed the product, wiped my skin with alcohol swabs, and got to work!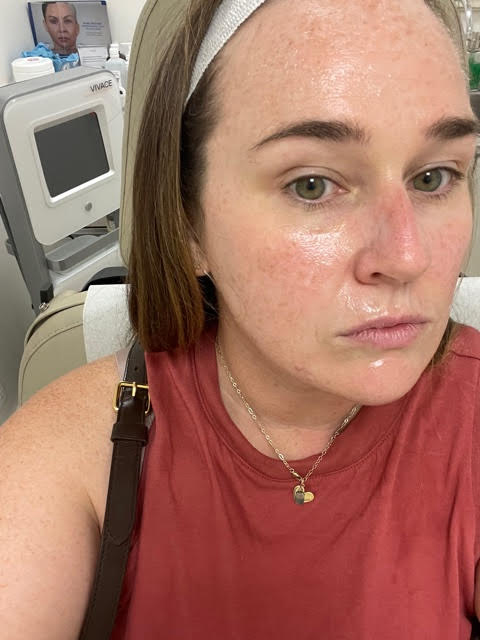 The Experience
I'm not sure why I had built it up in my head to be a much bigger deal, but the experience was completely painless and even a bit relaxing. Allison used the device to span my forehead, cheeks, nose, and chin two times, thoroughly treating each area of my face. I felt the tiniest bit of pricking, but not like a needle or injection. It was more like a tiny sharp tickle, at most. Once that was done, Allison gave me a cooling mask that felt incredible. It was invigorating and soothing, and I was able to sit back and relax while all the goodness worked its way into my skin. This is Allison's favorite part, too. She explains, "The post-treatment mask cools and soothes the treated skin while infusing powerful peptides to boost your results."
When it finally came time to look in the mirror, I was shocked. My face wasn't even red or pink. Instead, it looked refreshed, and a bit plumped! I was sent home with Aesthetics Biomedical Boost Glide Serum, which is like follow-up or aftercare. It's a lightweight tri-peptide glide serum that contains powerful tetrapeptides, tripeptides, and hexapeptides. It's integral to the experience and "supports the patient experience of successful immediate outcomes." I was instructed to apply it throughout the day to keep my skin hydrated.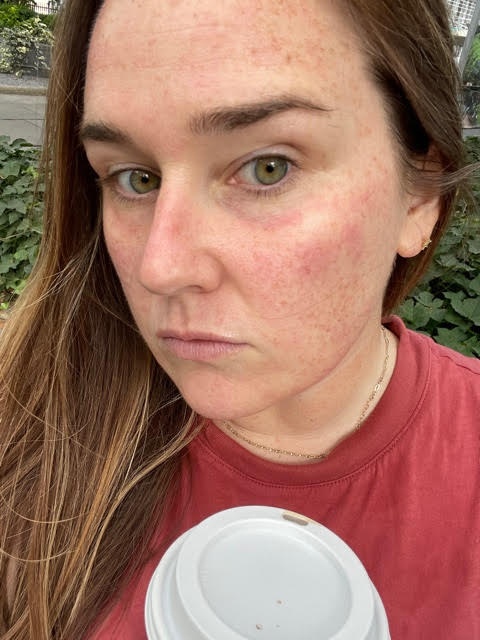 My Results
About two weeks after my first treatment, I noticed my skin looking a little bit more bright and smooth. I saw results but knew that achieving full results requires 2-3 treatments spaced about a month apart. So, when one month was up, I went back for treatment number two. Because I tolerated the first treatment so well, Allison asked if I'd like to be a little more aggressive this time. To which, I surprisingly said, "Sure!"
I definitely felt it a little more this time around, but it wasn't painful. It felt similar to acupuncture but all over your face. After the more aggressive treatment, I was a bit red and inflamed feeling for a bit, but after 2 hours or so, you couldn't tell I had anything done at all. The temporary minor difference in appearance was worth it.
Now, three weeks out from my second treatment, I can say I'm a huge fan of Vivace®. I love that you can see instant results as well as results over time. While the cost can vary depending on your provider and location, a single Vivace® treatment typically costs between $600 and $1,000. Two to three treatments are recommended for optimal results, and then annual maintenance treatments usually follow.
As for who is eligible for Vivace®? In short, everyone! Unlike other treatments that are not recommended for highly pigmented or super sensitive skin and are not recommended during certain seasons, Vivace® refreshingly has minimal use restrictions. Allison says, "Anyone serious about their skincare can benefit from Vivace® treatment. Whether you're looking to prevent aging, erase fine lines, or improve acne scars, Vivace® is suitable for all skin types and colors and can be performed year-round."
Sundays should be special.
Sign up for the Sunday Edit newsletter to stay in-the-know on all things skincare and beyond.