Compared to buzzy ingredients like bakuchiol and lutein, niacinamide can seem like kind of a snooze. Also known as vitamin B3, this ingredient has been around for years. And even though it's not exactly cool, its staying power gives it a major advantage over its newer counterparts. (In fact, it's one of the few to adhere to the Kligman standards, which determine an ingredient's efficacy based on whether it penetrates the skin barrier, has a known mechanism of action in skin, and has rigorous research to back up its results.)
It's worth incorporating niacinamide in your routine for a lot of reasons, whether you're dealing with dryness or discoloration. "In skincare, niacinamide can help keep skin firm by helping your skin build keratin, a type of protein," says Melanie Palm, M.D., a dermatologist in San Diego, CA. "It also helps your skin develop a ceramide barrier, which can work to retain moisture and form a protective barrier from environmental damage."
On top of that, niacinamide also plays defense. "It's a potent antioxidant that protects against free-radical damage, and thus works as an anti-aging powerhouse," says Rachel Nazarian, M.D., a dermatologist in New York City. It can also serve as an anti-inflammatory, reducing visible redness and irritation, as well as control oil production — keeping pores clear and skin less shiny. "Plus, niacinamide has the ability to interfere with abnormal pigmentation production, meaning it helps to brighten the skin," Dr. Palm says.
Meet the Experts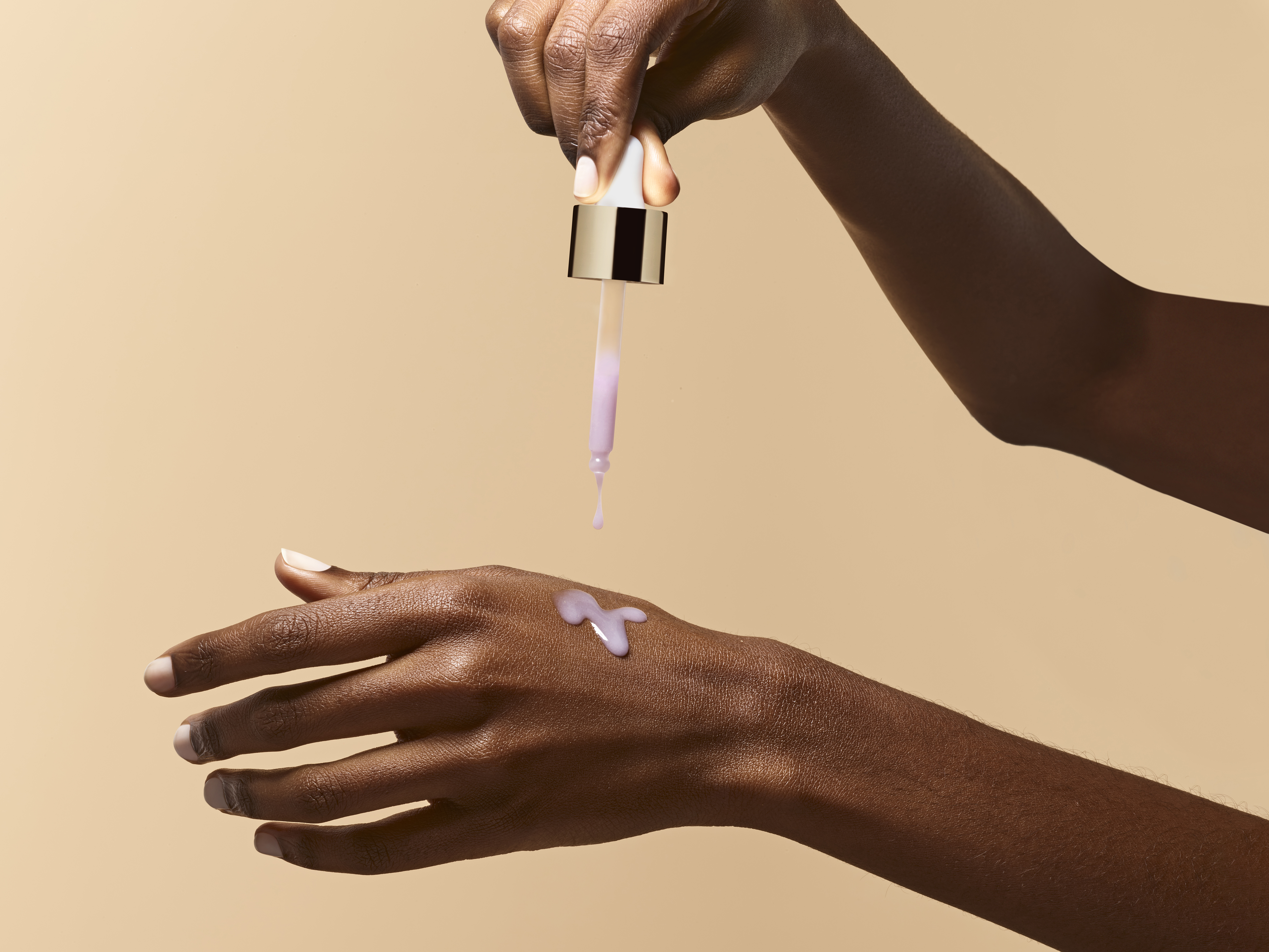 And, unlike other actives, such as alpha hydroxy acids (AHAs), beta hydroxy acids (BHAs), and retinoids, "niacinamide is considered a 'photo-protectant,' which means it doesn't make skin more susceptible to sun damage," she says. (That said, you still need a daily broad-spectrum sunscreen of SPF 30 or higher.)
What really sets it apart from the pack, though, is that "niacinamide also plays will with other ingredients — which means you can use it with other actives in your skincare routine," says Dr. Palm; in fact, research shows that it can even have a synergistic effect with certain ingredients. With that in mind, consider pairing it with these actives to get the best of both worlds.
Niacinamide + Vitamin C
Unlike niacinamide,vitamin C is like the high-maintenance weirdo of actives. "Vitamin C can be a bit more delicate, and some forms of vitamin C are more unstable than others — and more finicky about what they can be combined with," says Dr. Nazarian. This led to the (spoiler alert) misconception that you couldn't combine the two. "But, happily, the two can and often are together in some of my favorite products and regimens," she says.
Plus, they can be a killer combo for getting a more even skin tone, since they work via two different mechanisms to inhibit the production of excess pigment. (C is a tyrosinase inhibitor, meaning it blocks an enzyme that's key for the pigment production, whereas niacinamide messes with the transfer of pigment to the skin's surface.) Translation? They work double-time to brighten skin.
Niacinamide + Botanical Brighteners
In addition to vitamin C, niacinamide plays well with other brightening ingredients, too. Dr. Nazarian recommends seeking out licorice root extract in particular, which, when paired with niacinamide, can help fade excess pigment and even out skin tone. (In fact, you can sometimes find all three — niacinamide, vitamin C, and licorice extract — in a single brightening formula.)
Niacinamide + Hyaluronic Acid
For stubborn dryness, use these powerhouses together. "Combining hyaluronic acid with niacinamide can amplify hydrating benefits," says Dr. Palm. "Niacinamide helps to strengthen the skin's lipid barrier, locking in the moisture from the hyaluronic acid." In other words, the combo allows for longer-lasting hydration.
Niacinamide + Retinoids
The word here is synergy, thanks in part to niacinamide's ability to soothe skin — and the drying, irritating nature of retinoids (a term that includes both prescription-level retinoids and over-the-counter retinol). "Since niacinamide helps with inflammation and redness, pairing it with retinol can help to reduce its irritating effects," Dr. Palm says.
In boosting skin's resilience for retinoids, niacinamide can help you stick with a consistent routine, which makes for firmer, smoother, and brighter skin over time (versus quitting a few weeks in). The two can also make retinoids more tolerable for delicate areas of the face, like the eyes; in Sunday Riley 5 Stars Retinoid + Niacinamide Eye Serum, for instance, you can get the collagen-stimulating perks of retinoid without the burn.
Niacinamide + Alpha Hydroxy Acids
If summer left you with more dark spots than you can count — or just a general dull look — this pair will help brighten things up. "Pairing niacinamide with AHAs can help to amplify brightening benefits, which may be ideal for those with hyperpigmentation and discoloration," Dr. Palm says.
Plus, if your skin is on the sensitive side, niacinamide can also offset the drying effects of chemical exfoliants. That's why you can find them in Sunday Riley Clean Rinse Clarifying Scalp Serum, where they help deep-clean and rebalance the scalp. Niacinamide also teams up with lactic acid in Sunday Riley Charcoal Smoothie Jelly Body Scrub to smooth and brighten skin below the shoulders.
Niacinamide + Chamomile
If you know your skin tends to be reactive, Dr. Nazarian recommends looking for chamomile extract, which, she says, can help with both redness and inflammation. The duo can help ensure skin stays balanced no matter how many actives are in your routine.
---
We only recommend products we have independently researched, tested, and loved. If you purchase a product found through our links, Sunday Edit may earn an affiliate commission.
Sundays should be special.
Sign up for the Sunday Edit newsletter to stay in-the-know on all things skincare and beyond.