Turn it right around, astro babes. After the hot tub dipping of cleansing January, February's magic medicine comes clear and clean, beckoning us to make good on our promises to care for our one and only selves completely. It is a month for considering the specificity of your contours and the blood that can course through only your veins. Because any other lover than the one who already stands before you simply will not do.
The party is hosted by the Aquarius Sun, a far-out astral energy here to remind us that we are so much more than we believe. The zodiac's snap-crackle-and-pop wizard of the land beyond limits, Aquarius wants us to give our weirdest wisdom wings, bringing forward the flavors that only we could have mined from the crookedly perfect path we have walked. And with passion planet Venus entering Aries' cinnamon-blooded turf, and Mercury stationing retrograde through the touchy-feels of Pisces, it is a month for truly making peace with our personal penchants, loving what we love tenderly and fully, without a trace of regret.
What is longing for more room in your heart? What have you been trying to repress that wants your soft touch instead? Whatever you've been pushing yourself to get "over" just wants you to be "with" it instead. Let February be your chance to wine and dine your amorous appetites exactly as they are, letting your very own nature chart its compassionately curious course through multiple courses.
Read on for the key to your sign's heart this February and unlock even more good loving for your sweet, star-kissed self.
AQUARIUS OR AQUARIUS RISING   
January was all about finding your flow, Aquarius, as you immersed yourself in the life aquatic and practiced valuing more easeful expression. As your birthday month dawns bright and beautiful, the call is to move exactly your pace, forgoing any scrambly rushes and feeling into the contours of the rooms you inhabit like it were your first day on earth. Tiny miracles are your soul medicine right now, Aquarius, and this starts by touching, tasting and listening in to what presents itself to you on the daily. There are secrets in the woodwork of what is already here.
The Key to Your Sign's Heart: Space. While your sign sometimes gets a reputation for being detached or dispassionate, your cravings for the circulatory powers of fresh mountain air are here to teach the rest of us about breathing more freely. Take as much space as you need and then some, showing those you love that standing apart does not have to cost you the closeness you crave.
PISCES OR PISCES RISING   
January asked you to birth your cosmic capsule collection, Pisces, as you learned to hone what was here and attend to only the essential. Now, with planets gracing your chart's dreamy deep end, it is high time to align with the intuitive knowing that lives on the periphery. What have you been sensing lately? What is waking you up in the night and catching your eye on the street? There is extra power right now in what can't be "proven," Pisces, so go ahead and dive into the deep.
The Key to Your Sign's Heart: Getting Lost. Your heart lives in the unmapped love country that allows you to lose your hard edges and give yourself over to your status as tiny specks amidst the whole. Whether partnered or flying solo, practice taking a dip in a vast sea or wandering a thick forest by moonlight under a blanket of stars, finding bedazzlement in microcosmic experiences of togetherness with a higher source.
ARIES OR ARIES RISING 
January was an invitation into smooth-seeded smallness for you, Aries, as you practiced making moves at a measured pace and delighting in the soul-supportive step-by-step. Now, as planets power up your future-tripping zone, and Venus enters your sign, you are ripe for a full-scale rebirth of the trust in your inherent magic. Have you forgotten about the sheer power of your presence, Aries? How we look to you as a beacon of boldness, even when you are not "doing" anything at all? Take your place at the helm of the ship and ride us home simply by standing tall.
The Key to Your Sign's Heart: Innocence. Let your heart live on the cutting edge, dear firestarter, constantly mining the compassionate courage to renew your affairs. Whether it is injecting new buds of passion into a well worn marriage, or feeling your own fierceness while flying solo, your heart opens when you remember that every single second is truly a chance to begin again.
TAURUS OR TAURUS RISING  
January invited you to recapture your magnetic mojo, Taurus, as you traced your powers back to center, remembering that you can simply look upon something with love and draw it towards you. With this month's cosmic energies dancing through your zone of big picture, purpose and measured mountain climbs, it is a philosophical moment to reconnect to your "why." Let this feel deliciously esoteric rather than placidly pragmatic, letting yourself wander and wonder about your place in the world.
The Key to Your Sign's Heart: Deliciousness. When you feel like you have lost your way in matters of the heart, it is always a call to come back to the tangible, Taurus – touching, tasting and sniffing your way towards joy. Wherever you are in your romantic journey, ask yourself what would feel best in your bod right now, and then commit to gifting yourself the carnal answer in all its glory.
GEMINI OR GEMINI RISING   
January was a practice in compassionate self-study, Gemini, as you sat with the feelings rather than trying to fix them. Now, in February, with planets entering your house of wildfire, the flame turns on underneath you, asking you to have a little fun with friction. What if the current of energy that provoked irritation or stress could be transmuted into hot-blooded passion, and you could harness all kinds of heat for a shared, life-affirming purpose? Mix your metaphors this month, Gemini, seeing the seeds of delicious sameness in what might at first seem separate.
The Key To Your Sign's Heart: Complexity. While your legendary dualism is sometimes written off as duplicity, your love journey is all about cultivating this prismatic vision, content to hold seemingly disparate truths side-by-side. No matter your relationship status, do not deny yourself this multi-faceted approach, seeking unions that are as complex as your many-chambered heart.
CANCER OR CANCER RISING 
January marked an opportunity to recalibrate, Cancer, as you found your level in the dance of give and take. Now, with planetary energies gracing your zone of lip-licking intensity, it is high time you recaptured some of your fire. While you're a water babe, this is a month for remembering that you are cardinal ocean waves crashing along the shore. Consider your own force as you shape the landscape around you with the clarity of your feelings, and do not shy away from the strength of an emotion that wants to move the very earth beneath your feet.
The Key to Your Sign's Heart: Shelter. Like your hermit crab patron saint, you can find habitat wherever you travel, Cancer, and this kind of passionate pop-up tent is key to your love affairs, whether creating a safe space with a partner or seeking a sanctuary for your own private passions. Let your heart growth happen from this tucked-in space beneath the sheets.
LEO OR LEO RISING  
January was an exercise in integrity for you, Glitter Kitten, as you carefully calibrated your own brand of balance. In February, with energies activating your relationship zone, you are asked to travel even further into your explorations with outsourcing, becoming keenly aware of where you might have given away pieces of your power to authorities that did not deserve to hold it. This may even be an internal process, as you check in with the thought spirals and self-talk that holds you down. Become your own champion this month, Leo, getting back on your own team's side, complete with sparkly banner.
The Key to Your Sign's Heart: Simplicity. Your generous gift of a heart shines most brightly when it is stripped down to bare skin, little Leo. The pumping blood of the fullest feeling. The immediacy of the declaration. Let your heart journey be fueled by your capacity for disarmament, stepping forward to share your sensations without shame.
VIRGO OR VIRGO RISING 
January was a heart-baring month for you, Virgo, as you practiced making some bold moves that shifted you out of outmoded shells. Now, with the ignition switch lighting up your zone of body knowledge, you are asked to treat February as an instinct incubator, here to remind you that you are always capable of making decisions that fit your distinctiveness. Start by noticing where your choices initiate. Is it from buzzy brain space that feels anxiously frayed? Or from a fuller-bellied place deeper in your gut? Let this month lead you closer towards calling the shots from your carnal core.
The Key to Your Sign's Heart: Natural Rhythms. As a carefully coiled romantic, you are here to pledge allegiance to your own process, letting your heart become a biosphere of subtle seasonal shifts. Your superpower lies in moving at exactly your pace and never apologizing for the organic beauty of your intricate inner world.
LIBRA OR LIBRA RISING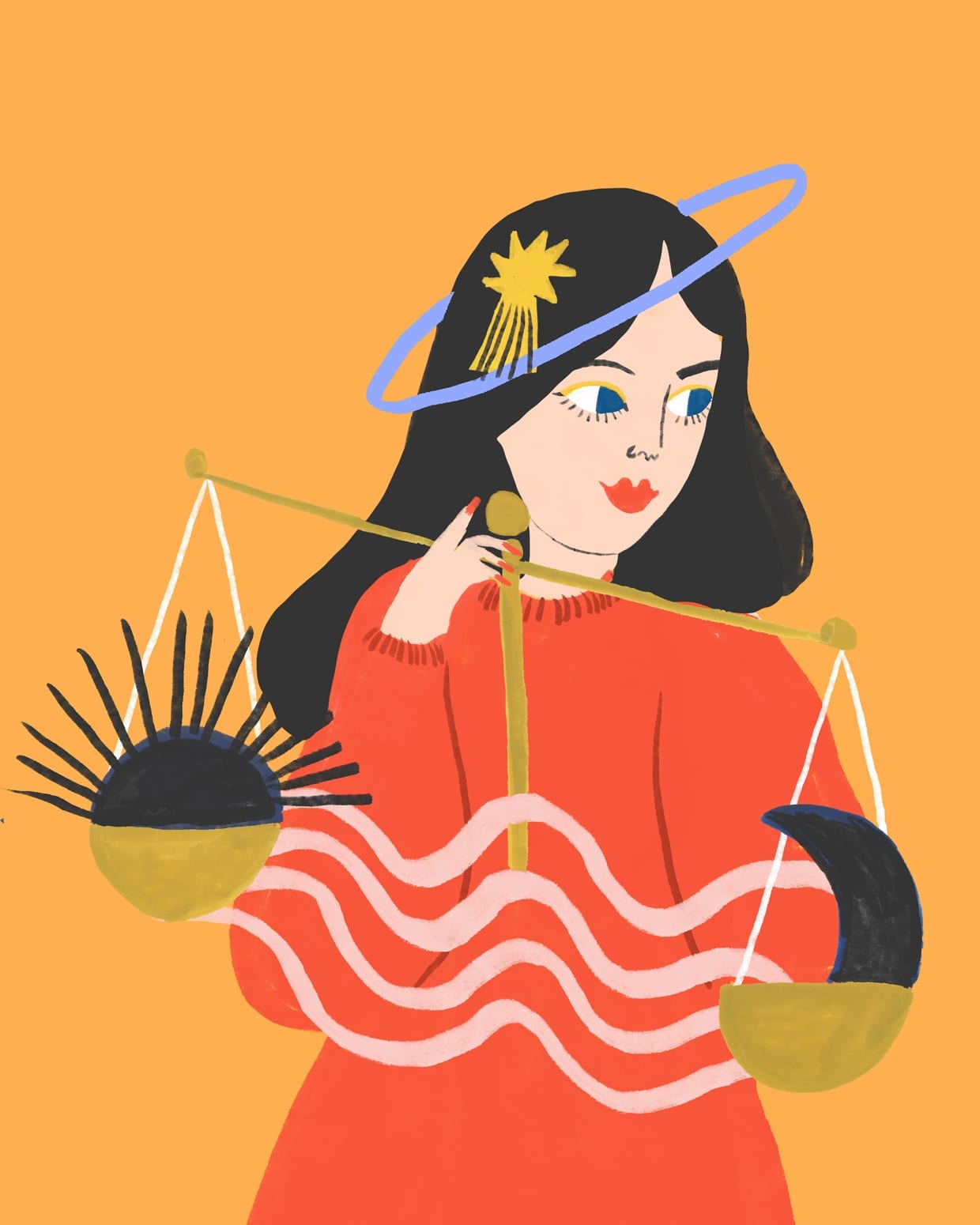 January found you diving deep into your backpack of competent resources and standing your ground with increasing ease, Libra. Now, with February's energies dancing through your zone of sparkle and shine, you are asked to embrace the innocence that can blossom on the other side of experience. Where are you softly expanding right now, like petals in the early light? It might be a nearly imperceptible opening, but there is something that you are turning towards that wants your vulnerability. Slough off the last of any hardened shells and snuggle up instead.
The Key to Your Sign's Heart: Heroics. While you sometimes get a rep for being all peacekeeping hearts and flowers, the heart of your sign actually beats in time to a fiercely high-minded vision of love that burns in the distance and must sometimes be fought for, full-throttle. Rather than a rigid hunt for perfection, let your romantic goals feel like an epically exciting quest.
SCORPIO OR SCORPIO RISING
January was all about letting loose, Scorpio, as you learned to embrace your curious style of party pleasures. February's energy turns you inwards, as planets grace your zone of secret diaries. Take this month to explore the concept of forgiveness, towards yourself, towards others and maybe even towards the forces that are far beyond your control. Where have you been believing that something or someone should be different? Healing starts by believing in the humanness of it all, remember that we are all here to learn through experience. If there is a hidden agenda, Scorpio, it is unfolding in the name of your evolution.
The Key to Your Sign's Heart: Instinct. You are a jungle cat of the heart, Scorpio, whose passion quests carry the carnal charge of the wild. No matter your current relationship status, remember that trusting your gut is the way towards heart-shaped glory, celebrating your cravings like the amorous animal you were born to be.
SAGITTARIUS OR SAGITTARIUS RISING   
January found you seeding the early stages of a brand-new beginning, Sag. And with February's energies igniting your zone of curious learning, the adventure continues. Now, it is time for a soul check-in about what it means to be on top. What are your personal definitions of success and failure, and where might a too-rigid paradigm be keeping you from remembering that you are allowed to explore? It is a ripe moment to break out of any shapes that have become black and white, remembering that you have every right to inhabit the colorful country in-between.
The Key to Your Sign's Heart: Self-Mythology. Your heart-shaped box is bigger and bolder than most, Sag, and you sometimes have a rep for running when faced with the messy feels of romance. But this is not evidence of any inability for intimacy. Instead, it is about celebrating your need for larger-than-life lust. Whatever your heart's status right now, set it to a cinematic soundtrack and narrate its grand meaning out loud to whoever will listen.
CAPRICORN OR CAPRICORN RISING   
January asked you to enter the wide-open country of what-ifs, Cappy, finding delight in loosening the limits and laws that kept you feeling less-than. Now, with February's action unfolding in your zone of al fresco eating, you are asked to open yourself to the pureness of presence. What could be made simpler right now? Where has undue complication kept you from feeling the stripped-down sensation that pulsates underneath the pomp and circumstance? It is a month for undoing the laces, letting it all feel more beautifully bare picnic blanket than extravagantly prepared formal feast.
The Key to Your Sign's Heart: Time. You are a lover for the ages, Cappy, here to show the rest of us what it means to brave our heart song through every season and epic turn of the weather. Whether you are partnered or flying solo, remember that you can find solace in deciding your own pace, letting your heart's desires gain infinite flavor through fine wine-style aging.

We only recommend products we have independently researched, tested, and loved. If you purchase a product found through our links, Sunday Edit may earn an affiliate commission.
Sundays should be special.
Sign up for the Sunday Edit newsletter to stay in-the-know on all things skincare and beyond.