Take a breath, astro babes. Look around you. Though it can sometimes seem like mystical mavens are spouting nonstop wisdom about how the stars are always up to something major, the cosmic crossing into 2020 was, well, major. And like the aftermath of any soul-shaking evolutionary divide, January is a month for restoration and replenishment, as we are asked to apply scented lotion to any fractured pieces and incubate the newness in our spirits.
The cosmic mix is dominated by Cancer and Capricorn energies, as a full moon eclipse unfolds in the sign of the mermaid, and a historic meetup between taskmaster Saturn and underworld exfoliator Pluto, beckon us to confront the containers we have created and the sweet care we are invited to give ourselves. Why do you feel like it has to be hard to be worthy? Why might loving up on your one and only self feel deeply confronting? Take this month to tend and caretake all the way down to the core, choosing tenderness over rough and tough at every turn.
Far beyond a quick trip to the spa, January wants us to begin to chart a more profound course towards sheltering ourselves. Locking the backdoor when it is needed. And speaking a resounding "no" to the scratchy "shoulds" to brush the soft down of our souls instead. Begin with the bath beads and prepare to truly sink in …
Read on for your sign's cosmic chill-out for January and usher in your soul-deep New Year's restoration … 
CAPRICORN OR CAPRICORN RISING
December invited you to walk the ground you already own, Cappy, setting well-heeled feet on the earth of your competence like you truly belonged. Now, with the Pluto-Saturn meetup reigning down hard-earned gemstones on your sign, it is time to excavate the subtler parts of your consciousness that still feel "less than." Where are you game-facing it, Cappy? Where are narratives of not-enough still operating under the surface? January wants you to smoke them out by widening your gaze, leaning on pals and strangers who can remind you of the more-ness of it all. Electric slide it, Capricorn, letting glorious what-ifs lead the way.
Cosmic Chill-out: Weekend Getaway. Pack your bags and lose the map, dear goat, mixing up your mind in a new town you've never explored. Bonus points if you pack only the essentials, leaving space in your suitcase for what really counts.
AQUARIUS OR AQUARIUS RISING
Your December was all about sustainable sparkle and glow, Aquarius, as you were asked to identify your long-term sources of light. Now, with planets dancing through your chart's deep end, you are invited to truly build from that place. Start by identifying exactly what calls you into deep "flow." Where do you lose yourself, blurring the edges of separateness and feeling completely synced with the action you are performing? Even if it is something as innocuous as walking the streets of your neighborhood or scrubbing the tub, start there. Practice opening to that kind of immersion, knowing that the bigger, bolder moves in your life can seed themselves from that same seamless place.
Cosmic Chill-out: Music. When was the last time you listened to tunes like they were a television show, focusing solely on the sweet sounds? Harness your teen self, as you pump up the volume and let your body sway, washing yourself clean in a landscape far beyond logic.  
PISCES OR PISCES RISING
December marked a celebratory moment for honoring your triumphs, Pisces. And now, with roses in your hair and a trophy in your heart, January asks you to get lean and essential, looking at what stands before you straight in the eyes before you take steps into the future. What have you been avoiding? What feels hard-edged and harsh? While you are the zodiac's reigning dream queen, this month wants to show you the magic of starting with what is here. Treat the confrontation like an opportunity to build your cosmic capsule collection, saving only what is tailored to the spirit you have become.
Cosmic Chill-out: Meditation. Let it be simple and streamlined, Pisces. Rather than fancy classes, far-flung trips to the mountains, or elaborate apps, just start with the breath. Do it in the car. Do it as you walk. Let even your most mundane trips to the grocery store become chances to stop and notice the texture of your world.
ARIES OR ARIES RISING
December was positively plant-like for you, Aries, as you practiced sloughing off old leaves with grace. Now, you are asked to invite that organic exfoliation into January, feeling into the fine art of starting small. Treat yourself like a baby seed, firestarter. What do you need at this moment? Where can innocence trump the urge to do it all right now? Divine the difference between your exuberant energy for initiation and scrambling anxious fears that you are the only one who can hold up your entire world. January wants you to practice some soul-centric minimalism and let the universe pick up the slack.
Cosmic Chill-out: Crystals. Whether simply wandering the woods in search of a rock that speaks to you, or immersed in a rose quartz sauna, January invites you to lean on sparkling supports. Send your intentions into the earth and let pocket rocks remind you that you don't have to bear the full weight of the world.
TAURUS OR TAURUS RISING
December was a month of divinity for you, dear Taurus, as you practiced showing some faith in unseen sources of magic. Now, as you cross into the new year and changemaker Uranus stations direct in your sign, it is time to consider your source. Where do you draw your power from? And how do you draw yourself back to the center? Whether it is through stillness or in the midst of a sociable crowd, it is a month for feeling into that core and considering your status as a magnetic being. Treat the world like a lover and simply gaze across the room at what you most desire, already touching and tasting it before it is actually in your hands.
Cosmic Chill-out: Sensuality. Whether it is self-pleasuring, or more subtle choices to sport silk fabrics or savor dark chocolate, this month wants your hands and mouth on it, Taurus. Do not be afraid to let it feel good.
GEMINI OR GEMINI RISING
December beckoned you to relish the release of revelations, Gemstone, as you stepped out of old duds and into some sparkly new threads. In January, the energy is more inwardly turned, and you are asked to explore what part of you is still not being invited to come along for the ride. Is there something you are desperate to change? A habit or behavior that you've tried and tried to excise from your being? Trust that this piece wants your feeling rather than your fixing right now and take the month to self-soothe what you struggle against, tending to all aspects of your humanness.
Cosmic Chill-out: Pause. Whether it is shutting your phone, saying no or going off-grid, literally stop the wheels, Gemini. Even if you feel like everything and everyone is pulling for your attention, exercising your right to even the smallest of precious pauses will restore a lost part of your power.
CANCER OR CANCER RISING
December was a month to relish self-responsibility, Cancer, as you learned to release your grip on others' behavioral patterns and embrace a more relaxed relationship credo. With January's planetary energies igniting your axis of partnership even further, it is a ripe month for considering the broader rhythm of give and take. Where has an extension into certain external energy fields started to leave your own cup drained? Exactly how much do you have to give and where do you want it to go, little mermaid? You have every right to slow down and choose wisely, letting the recipients of your gifting prove their worthiness.
Cosmic Chill-out: Water. Whether you are diving into the turquoise oceans of the Caribbean on an elaborate getaway or drawing a bath in your very own home, January wants you to consider the self-regulatory magic of the water element, finding your own level in the cooling liquid.
LEO OR LEO RISING
December was a ripe month for restoring your self to yourself, glitter kitten, as you practiced pulling the beauty you see in the outside world back into your bones. And with January's energies traveling through the area of your chart concerned with holism, it is time for a powerful check-in with the way the disparate parts of your life fit together. While "balance" may conjure images of poised perfection, this is more about a practice of dynamic fullness than exacting precision. Start by identifying the pieces of your world that feel "unlike" the others, sensing into what naturally just doesn't fit. And then send your attention to the places that do, plumping up what already wants to travel close to your skin.
Cosmic Chill-out: Tasting Menus. Whether you are craving a home-cooked meal or longing to be served, take this month to experiment with the flavors that feel most fitting, unafraid to ask for extra helpings of the most delicious dishes.
VIRGO OR VIRGO RISING
December invited you deep into your own wondrous woods, Virgo, as you re-pledged your allegiance to a part of your inner world. With cosmic energies now igniting your zone of sunbaked exposure and self-expression, it is a moment to practice stepping out into softness. Start by noticing where you want to steel yourself against the world. What people and situations make you want to armor up? Trust that the magic right now is actually found in tenderness, as leaving bits of your shell behind teaches you that there is truly nothing that can be taken from you. Practice going first, Virgo, showing your hand and sporting your heart on your ruffled sleeve.
Cosmic Chill-out: Sharing. Call a friend. Shout it to the wind. Write it on a paper and leave it on the bus. Take a burlesque class. However you practice getting comfy with reveals, let it be sweet, whispering your secrets with a dose of wonder.
LIBRA OR LIBRA RISING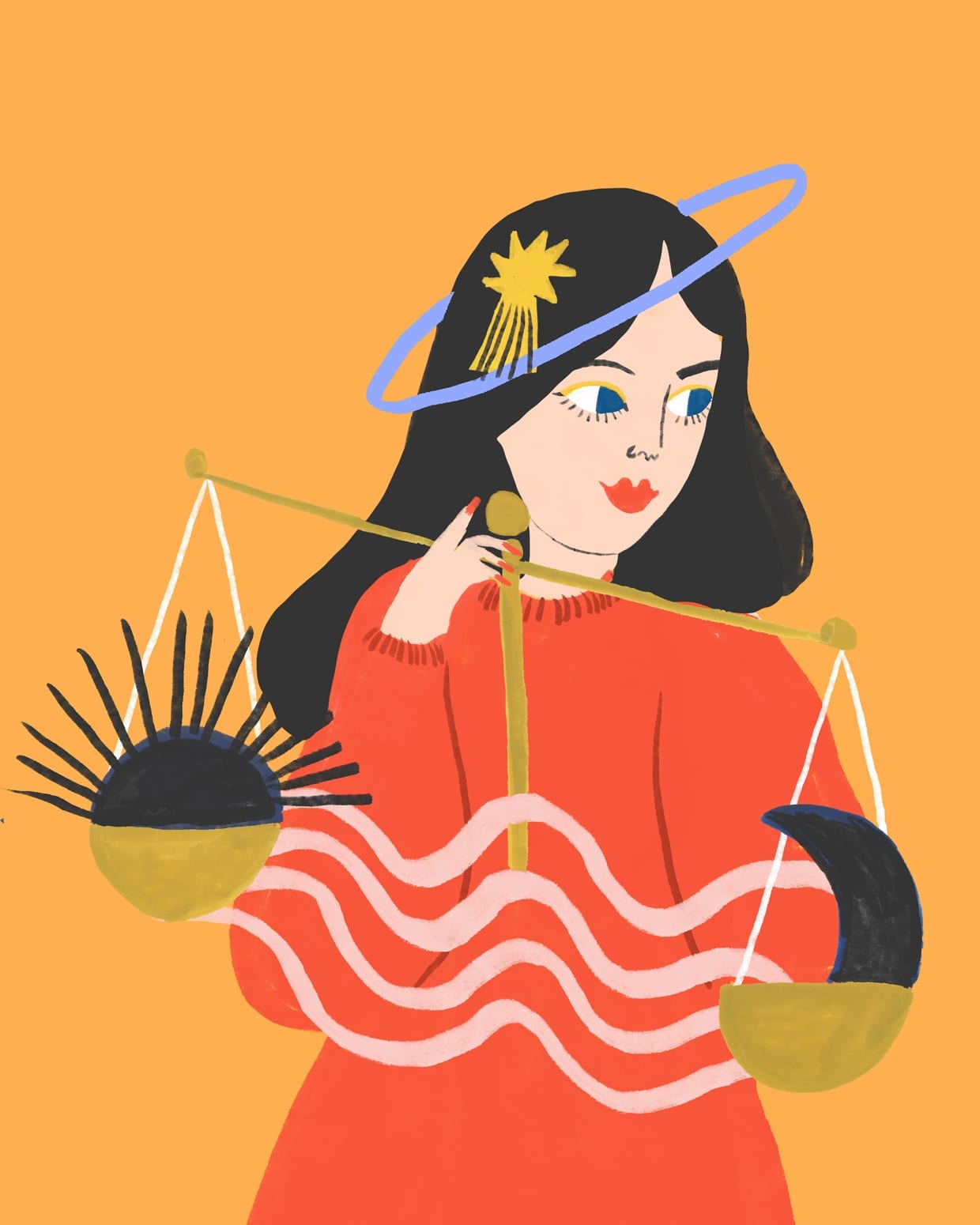 December asked for your intentionality, Libra, as you practiced moving towards glimmers on the horizon rather than the pull of past patterning. And in January, you are invited to root down into this new land from a place of deep integration, embracing all of your experience. It is not about either/or. It is not about forward/backward. Instead, the energy of empowerment springs from swallowing it all whole and considering that standing your ground doesn't have to be a defensive act of claiming, but can be enacted simply by noticing where in your life you feel completely competent and confident. Trust that you are always, already, prepared.
Cosmic Chill-out: Nature. Let the bigness of this beautiful world hold you steady and crack you open to the seasonal shifts that burst into being without worrying about how they are received. Take January to practice taking up the same space as the very sky, Libra.
SCORPIO OR SCORPIO RISING
December invited you to consider the sparkle of the so-called superficial, Scorpio, gliding along the surface instead of having to dive so deep. Now, with planetary energies powering through your zone of curiosity, you are asked to continue your search for fun. What actually feels pleasurable to you right now? Where can you throw your hands up in the air and wave them from side to side? This kind of release springs from a willingness to shift your consciousness, interrogating the places in your life where you may feel victimized or "unlucky." Instead of gripping your lottery ticket in anxious hands, trust that luck comes to those who let it loose.
Cosmic Chill-out: Parties. Even if it is just a solo dinner that you prepare yourself, January wants you to continue the holiday sparkle and honor the thresholds of your life. Break out the bells and whistles, Scorpio, and don't forget to bless your beautiful bod with a dance.
SAGITTARIUS OR SAGITTARIUS RISING  
December posed a question to the depths of your heart, asking you if you could summon the courage to love again and again. Now, as you enter 2020 with mane flying, the planetary energies invite you to let this sense of renewal feed your very reality. Maybe it is carefully tending to the fledgling stages of a passion project. Or blocking out even an hour of your day for simply basking in inspiration, whether it is digital mood boards or a trip to the museum. You are beginning to channel something, Sag, and it wants your full attention and presence rather than logical planning. Give what is starting to seed the lasting nourishment it needs.
Cosmic Chill-out: Play. While it may conjure silly visions of "inner child" work at first, January wants you vivid and alive, Sag, putting your hands in the paint set and playing dress-up with a full-bodied commitment. Even if it is just singing in the shower, practice letting more whimsy into your lair.

We only recommend products we have independently researched, tested, and loved. If you purchase a product found through our links, Sunday Edit may earn an affiliate commission.
Sundays should be special.
Sign up for the Sunday Edit newsletter to stay in-the-know on all things skincare and beyond.