Curl up by the hearth clad in your star-studded finery, astro babes. After November's megawatt expansions and shake-it-up initiations, December's cosmic medicine settles the snow in the globe, delivering us straight to the seat of our regalness for queenly acts of completion.
Led by a mashup of action-packed astro energies including Sagittarius, Aries, Capricorn, and Aquarius, this month is not messing around. But instead of a sweaty race to the finish line, we are asked to treat it like a self-confident strut, taking what is naturally ours back into our calmly open arms and powerfully closing the door on what we are no longer meant to track.
What are you ready to bring home? What fits you like a glove? December wants you slow and steady like honey, giving the spoon one final lick as you consider your legacy. Less a harried list of anxious bucket lists and five-year plans, this month asks you to consider how you want to affect the very rooms through which you travel, and how you want to feel in the process.
It is time to lace up your faux-fur lined booties and walk the grounds you already own. The land beneath your feet was custom cut for the self-sufficient serenity of your steps. So ready your reindeers and summon your swagger …
Break out the bubbly and read on for your sign's celestial cause to call a toast this season …
SAGITTARIUS OR SAGITTARIUS RISING
November marked a philosophical moment for you, Wild Pony, as you synced up with your higher cause and considered the ripple effects of your presence on earth. After all this heady esoterica, December returns you to the seat of yourself in style, asking a deceptively simple question of your always-inquiring self: can you love again, Sag? Can you summon the lust and libido and sheer life force to desire? This need not be a traditional romantic affair. Instead, this exploration calls into being your very being. What is invigorating your breath right now? What rapid-fire sensations raise your heart rate? Go towards this heat post haste.
Reason to Celebrate: The Road Not Yet Traveled. More than any other sign, you thrive with the doors and windows wide open. Less a flighty, noncommittal act, this is actually about your boundless belief that life is rising to meet you, not yet tasted until it is met. Let this holiday be a celebration of the wild unknowns.
CAPRICORN OR CAPRICORN RISING
November was all soft sachets and sweet fruit compotes, Capricorn, as you explored your self-compassionate capacity to turn your body towards the beloved world that longed to hold you. And as you stand poised to enter your birthday season, there is something you have earned through experience that no one else can take from you. This is not a lockbox affair that needs to be guarded to burn bright. Instead, this is a part of your essence that is simply not up for grabs any more, less in need of conscious defense and more just an inarguable fact. Consider your ground, Cappy, knowing that you do not even have to claim it.
Reason to Celebrate: Private Lives. There is something you possess that is only for the flower of your own damn heart, Capricorn. But you do not need to clutch it close to your chest screaming "mine!" Instead, let this private treasure become an autoerotic act of simply feeling yourself. And let it feel unabashedly good.
AQUARIUS OR AQUARIUS RISING
November was a curbside drop-off moment for you Aquarius, as you considered what luggage you no longer longed to carry. And as you race towards year's end, this cosmic closeout ramps up. But before you switch into frenzied purge mode, consider the question of sustainability. As a systematic thinker, you have the power to explore how whole worlds will go on. Turn this future tripping on your sweet self and tap into your long-haul sources of fuel. One small tweak to how you do what you do will have your biosphere lit by the unending light of the Sun.
Reason to Celebrate: The Big Picture. As one of the zodiac's premiere "seers," you can air traffic control any moment, grasping the network of runways that connect it far into the adventurous future. And while this can sometimes feel like information overload, take this holiday season to remember that all this clarity also reveals the bright blue spacious sky, filled with powerful potential and precious perspective.
PISCES OR PISCES RISING
November invited you to slough off what had become rigidly grey in favor of a fuller color spectrum, Little Mermaid. In December, with straight-shooting astro energies leading the pack, you might initially feel pressure to "get it together" and get on with it already. But before you chastise yourself, consider the even more powerful invitation to see just how far you have come. Even on a cellular level, you are different Pisces. This may be subtle, or it may be spot-light ready, but know that it is all absolutely worthy. Your capacity to inhabit your full authority rests on your ability to acknowledge your sweet triumphs.
Reason to Celebrate: Threshold Crossings. Look around you Pisces and within you. Something has shifted. It may be by a hair's breadth degree, but it is more than worthy of your complete attention. While we love to fête the big stuff of life, you are now asked to celebrate any emotional triumph that may be for your eyes only. Wrap it in ribbons and light the candles.
ARIES OR ARIES RISING
November was an oven-baked month for returning to your beautiful bod, Aries, listening to its whispered appetites and truly letting it take the lead in your life. December continues this mastery in grounding your fiery force. It is time to consider an alternate route towards change. Could transformation feel like a shift in the weather, as whatever is not meant to come with simply gives itself to the rising wind? There is an organic expansion underway that is as natural as plant growth right now, Aries. Release anticipatory strategy in service of the already unfurling leaves.
Reason to Celebrate: Time Itself. While you are often the first sign out of the gate, this year has indoctrinated you into the school of slowness. Take December to remember that you can truly take your time, Aries. You will leave your mark. You will rock this world. And you will do it by making like a rock itself, embracing your capacity for mature duration and letting yourself get tumbled smooth by the sweet experiential stuff of life.
TAURUS OR TAURUS RISING
November was a boomerang month for you, bovine beauty, as you considered how to meet a part of yourself you had perhaps given away. December continues the deep dives, though this time they start to veer philosophical. What is eternal, Taurus? What has lasted with you through time and space? Whatever your faith, the close of the year is a moment to summon it, bowing at the altar of something bright and beautiful that brings you hope. It could be as complex as a cathedral ceremony, or as simply self-chosen as praying to the petals on a rose. Take December to direct-dial whatever version of god feels most gorgeous.
Reason to Celebrate: The Solid Core. With pattern-breaker Uranus starting its seven-year ride through your sign this year, the invitations to move and shake were major. But amidst all these earthquakes, you found your solid chocolate-core. Celebrate what is unbreakable this December, Taurus, remembering that there is always stillness in the eye of the storm.
GEMINI OR GEMINI RISING
As your ruler, Mercury, traveled retrograde, November asked you to find power in the pause. Armed with your right to be exactly where you are, December invites you to resume forward motion, stepping across a threshold into something different. There is a shell that you are ready to slip out of. A dress you are ready to slip off. Not because it was wrong to sport it in the first place, but simply because it is not quite the right fit for the festive occasion you would now like to attend. Take December to dress the part of the new part of you that is ripe for revealing.
Reason to Celebrate: Experiential Knowledge. While you are sometimes written off as an endlessly flitting butterfly babe, your adaptive capacities are some of your most audaciously awe-inspiring qualities. December is made for celebrating the wisdom in the many shades of experience you have weathered, Gemini. Arrange all the nectars you have sampled on the mantle and consider their magic.
CANCER OR CANCER RISING
November marked a sunbaked, self-centric moment for savoring the goods you have to gift the world. Now, with planetary energies gracing your zone of personal integrity, it is time to bear some sweet responsibility for your very existence. This does not mean shouldering outsized blame burdens that are meant to be shared with another. But it does mean radically adopting some "live and let live" credos that give you and those around you a greater chance to move. Take this month to consider the complex paths that have carried all of us here and rejoice in only having to travel your own.
Reason to Celebrate: The Power of "I." Though you are a water sign who longs for emotional fusion, this year has brought you into the driver's seat like none other in recent history. As it comes to a close, celebrate your self with a capital "S." The choices you have made. The risks you have taken to become more and more of you. The case for your courage can't be overstated, dear Cancer.
LEO OR LEO RISING
November was a sparkly spotlight moment for flying in the face of preparation and just doing it with the resources on hand, right here and now. As you enter December, "doing" slows its roll, ushering you into a deeply passionate, private affair with your one and only self. Start by considering what you admire in others. Your cravings that appear to be external. The bits of bedazzlement you think are elsewhere. And then start to call them on home, like a glorious whale in the deep blue sea, opening wide to reabsorb what already surrounds you. December wants you to swallow whole what might seem separate. Let your amorous appetite run wild.
Reason to Celebrate: The Eternal Flame. More than any other sign, you have the power to fall in love with every facet of existence, Leo, and December wants you to remember this preciously purring prowess. Make eyes at the street trees. Rub up against your apartment walls. The world wants your hands on it.
VIRGO OR VIRGO RISING
November excavated your motivations, Virgo, as you traced behavioral patterns back to their root source and expanded your own capacity to consciously choose. Now, with planets entering the base of your astrological tree, you are called even deeper into this quiet core of sensitive self-reliance. It is a moonlit month for wanders through your own woods. For brushes with your own witchery that comes from an unidentifiable inner source that needs nothing external to constitute it. How can you pledge allegiance to this inner world right now? December wants you to hot tub skinny dip after midnight, reacquainting yourself with the feel of your very own skin.
Reason to Celebrate: Sweet Solitude. In the Tarot, the Hermit card rules your sign. Rather than the resignation of a lonely life apart, this energy activates a trust in the specific contours of ourselves. In the nature that we have made peace with and started to sport like a comfy silk dressing gown. Gift yourself the sensual self-sovereignty of these solitary knowings this season.
LIBRA OR LIBRA RISING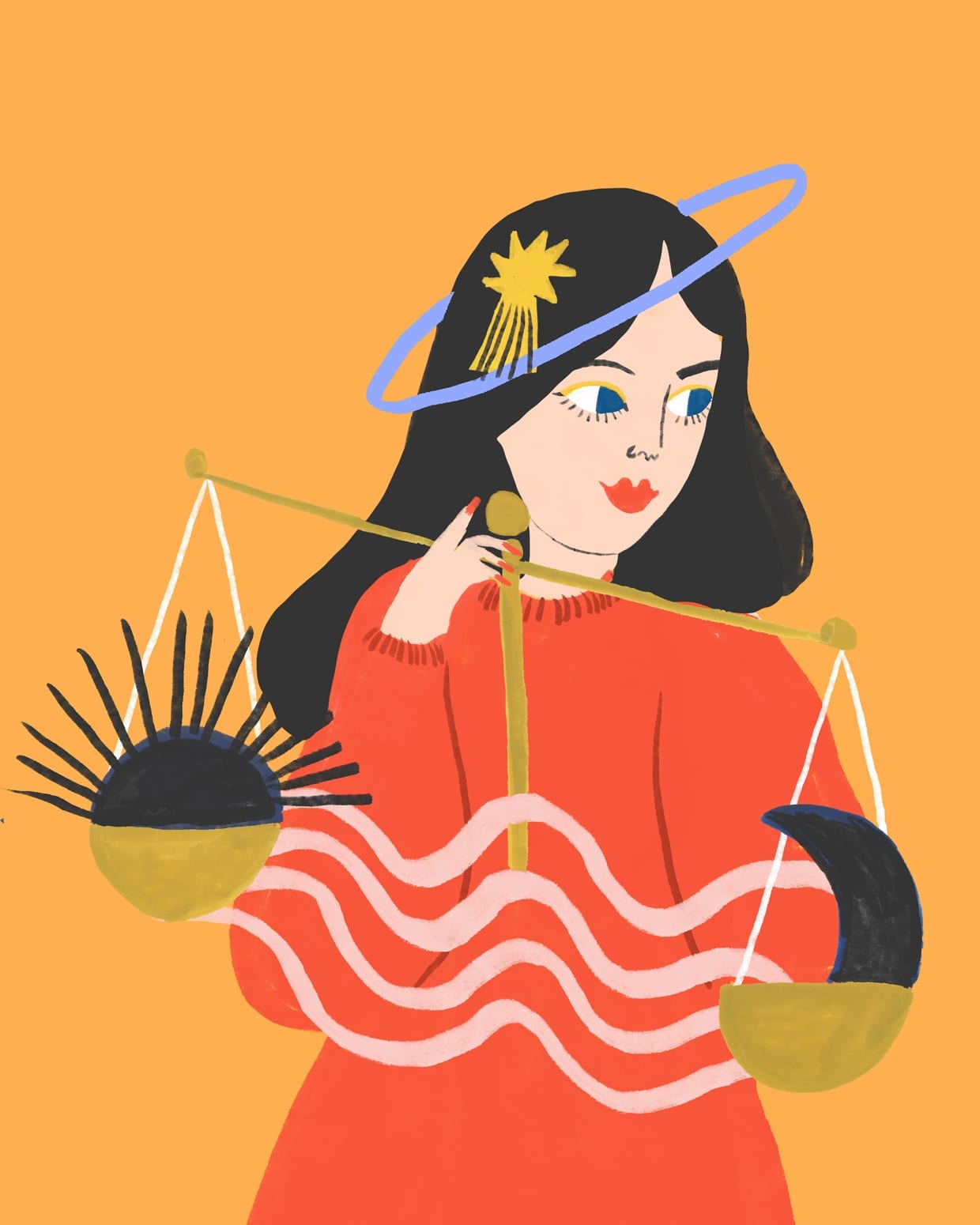 November offered you a chance to slow down and savor the shape of whatever arrived, Libra, content to consider that it all might just be perfectly packaged for you. In December, with planets activating your arena of curious fresh starts, you are in final clean out mode, exfoliating stuck emotions so that you can leap with levity, a veritable queen of the aerodynamic high dive. But rather than hard-edged effort to finally halt a pattern, could you consider that moving towards the curious ignition switch already leaves what is meant to be left in the dust? Clean breaks spring from locking eyes with the sparkle that lies before you.
Reason to Celebrate: Space Making. Your capacity to float above is cause to rejoice this December, Libra. Instead of endless toil towards the just-out-of-reach ideal, let it be an act of space creation. Whether it is the simple way laughter can amplify a room, or purging your purse of extraneous items, this month is meant for liberatory light travels.
SCORPIO OR SCORPIO RISING
Your birthday month invited you to consider the goblet half full, identifying so-called sources of lack and starting to cease any scrambling. After all these self-worth snacks, December asks you to serve yourself a full-on holiday harvest. What is ripening right now, Scorpio? What doesn't need any more tending but is instead just asking to be plucked from the vine? And how can you learn to savor these moments that glide along the surface, content to kick back and offer your full presence instead of immediately plunging to question what lies beneath? Let seeming superficiality become your secret weapon in the battle for sweetness.
Reason to Celebrate: The Imperfectly Perfect Present. Sink into the "now" this month, Scorpio. Take extra helpings of what is already here. Catch a buzz off the "isness" of things, exactly as they are. Like an immersive theatrical spectacle, December wants you to be part of its world without reservation.

We only recommend products we have independently researched, tested, and loved. If you purchase a product found through our links, Sunday Edit may earn an affiliate commission.
Sundays should be special.
Sign up for the Sunday Edit newsletter to stay in-the-know on all things skincare and beyond.