CoQ10 (the abbreviation is pronounced as "Co Que 10") is an important skincare ingredient you'll want to learn about. Here, we spoke with two dermatologists — Alicia Zalka, MD board-certified dermatologist and founder of Surface Deep, and Alexis Parcells, MD, board-certified plastic surgeon, owner of Parcells Plastic Surgery and founder of SUNNIE Wrinkle Reducing Studio — about the powerful ingredient and how you can incorporate it in your everyday routine.
What Is CoQ10?

"Coenzyme Q10, aka CoQ10, is an enzyme present in the cells of our body which is important in the functioning of mitochondria and is the basis of all cellular processes," Dr. Zalka says. "It allows the 'fuel' to power the 'engines' of cells. In young individuals, this is readily available naturally but as we age, it diminishes. However, an actual deficiency of Coenzyme Q10 is so rare it is almost unheard of," she adds. You may also find it added to certain powerhouse skincare products, including Sunday Riley Fairy Godmother Shimmering Body Oil Gel and A+ High-Dose Retinoid Serum. Protected from air and water by Liposomal-encapsulation, this topical CoQ10 may improve the appearance of aging or UV-exposed skin, for a healthier-looking, balanced complexion.
Why Is CoQ10 Beneficial?
CoQ10 is beneficial on both a cellular and a topical level. Dr. Zalka says that nutrients like CoQ10 can "mop up" damage that comes from environmental factors like sun or UV rays exposure, pollution, or other free radicals.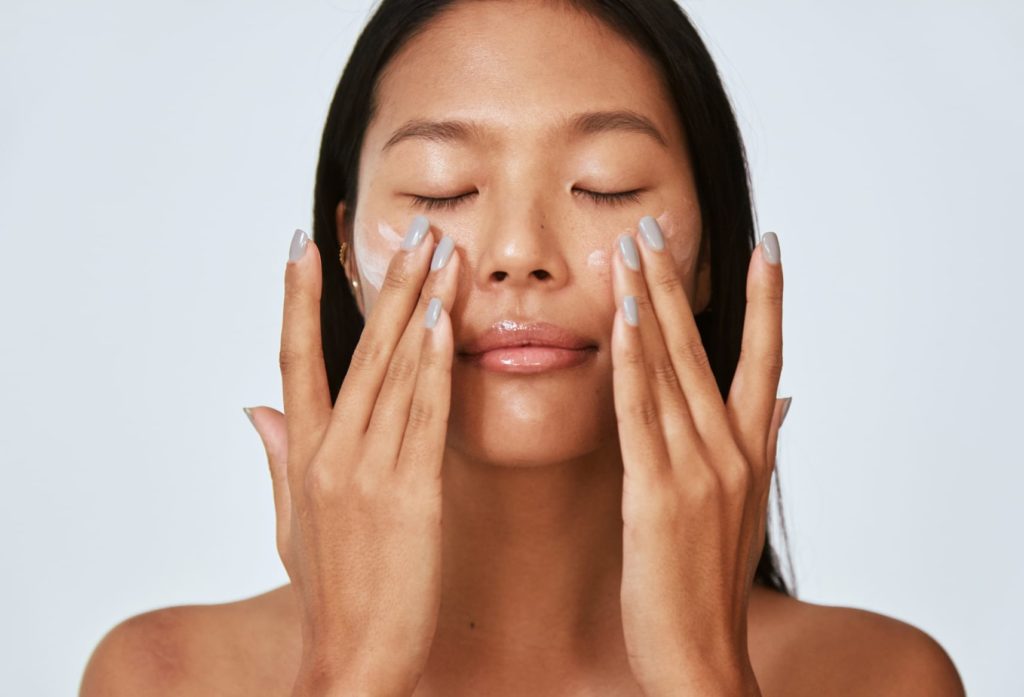 "CoQ10, like other antioxidants, work as skin shields to combat skin aging that we routinely see from UV radiation, infrared radiation, and ozone pollution," Dr. Parcells says. "Because the majority of aging of our skin is from environmental sources, it's important to block this to improve our skin quality and tone."
She adds that the enzyme can reduce sun damage by helping to decrease collagen degradation of skin. It can repair damaged cells and enhances our healthy cells to fight skin damage.
It also helps to block tyrosinase, an enzyme that aids in the production of melatonin and can cause dark spots, so it can help to brighten skin. "Lastly, it stimulates collagen and elastin production, which can reduce the appearance of fine lines," Dr. Parcells says.
How Should I Use CoQ10?
"CoQ10 can be used with Vitamin C and their effects together are more powerful than each alone. It's available in topical products and as a dietary supplement," Dr. Parcells says. "In its topical form, CoQ10 is usually found in products like serums, eye creams, and facial moisturizers. Look for formulations that also have vitamins C and E, two skin-friendly ingredients that work in tandem with CoQ10."
It works well in products for both the face and body (anywhere you're concerned with wrinkles, dullness, or loss of elasticity). It can (and should!) be used daily for best results.
When taking it as a supplement "other organ systems can benefit along with the skin. Some medical literature suggests the benefits of Coenzyme Q10 for cardiovascular health," Dr. Zalka says.
Is There Any Skin Type That Should Not Use CoQ10?
Overall, CoQ10 is considered safe for everyone. "Used topically, it is very well tolerated by all skin types," Dr. Zalka says. "Whenever starting a new skincare product, I always suggest using it on one small area of the skin as a test site and to use it on its own without layering of products (so if you have any unlikely reaction, you can know exactly what caused it)." Check to see if your moisturizer or ingredient contains this powerful enzyme, and if not, you may want to add a product containing CoQ10 to your routine.
---
We only recommend products we have independently researched, tested, and loved. If you purchase a product found through our links, Sunday Edit may earn an affiliate commission.
Sundays should be special.
Sign up for the Sunday Edit newsletter to stay in-the-know on all things skincare and beyond.