Whenever I saw other moms breastfeeding their babies, it looked enjoyable and easy. I was excited to start this process with my newborn and build that special connection many new mothers talked about. So when it was time for me to get first-hand experience with my little girl, it was confusing to me why breastfeeding was painful and cringe-worthy. I dreaded every session, and I thought something was wrong with me.
Especially for new moms, there's certainly a learning curve with breastfeeding.
People rarely talk about that while breastfeeding shouldn't hurt, pain during breastfeeding can happen for various reasons. As natural and convenient as nursing looks, it's not always easy to get the hang of it, and there's "no such thing as normal," says Amy Peterson, B.S., I.B.C.L.C.
In honor of World Breastfeeding Week, we're helping broaden the conversation of what breastfeeding looks like for different women and why you might be experiencing pain during your journey — plus what you can do about it.
Meet the Experts
Amy Peterson, B.S., I.B.C.L.C. is an international board certified lactation consultant (IBCLC) for Evenflo Feeding. She is co-author of the book Balancing Breast and Bottle: Feeding Your Baby.
What should breastfeeding typically feel like?
"When it's going well, you should barely even feel breastfeeding. It's totally pain-free. It'll feel warm when your baby latches on, and there should be a slight pulsing or squeezing feeling on the nipple. You'll be aware of the rhythmic pulsing, but there shouldn't be discomfort. For the breast itself, once the brain releases oxytocin and the milk starts flowing, there might be other sensations like a tingly sensation or heat. And that's just the milk glands pushing milk toward the nipple, and that's normal. Some moms never feel that. A lot of moms do. But either way, it shouldn't hurt," says Peterson.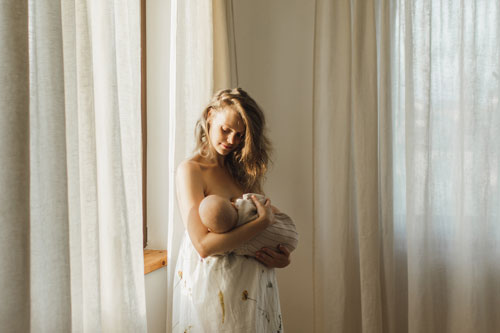 But especially for new moms, there's certainly a learning curve with breastfeeding as you get accustomed to how to best latch the baby onto your nipple. "Sometimes, the nipple is not in the right place in the baby's mouth, and adjusting can cause a little pain. I would describe that as a feeling like a pinch that might cause discomfort for about 10 seconds as the baby readjusts," says Peterson. If the pain persists for longer, you may have a more complicated issue.
What's causing breastfeeding pain — and how can I ease it?
A bad latch
The symptoms: If your nipples are a different shape after the baby releases, your nipple skin is cracked, or the baby is fussy during a feed, these could be signs the baby is not latched to your breast correctly.
How to fix it: Try a new position. If you're experiencing pain for more than 10 seconds, you need to detach the baby and start over. "An asymmetric latch is the most effective way to latch a baby. When you're getting the baby ready to breastfeed, their nose should line up with the nipple. So when the baby opens its mouth, they take about an inch below the nipple and the nipple itself. So many moms will try to center the nipple in the baby's mouth, which causes pain because the nipple doesn't go back as far as it should. But with an asymmetric latch where the nose is at the nipple, the baby will tip its head back. Then, they're getting more of the breast tissue below the nipple that puts the nipple way far back in the mouth, so it's pain-free," says Peterson.
Vasospasms
The symptoms: "This is a blood restriction that can happen when the blood is flowing to your extremities. You might notice that your nipples might look white or even blue because of poor blow flow," says Peterson.
How to fix it: "Depending on the severity, sometimes you can remedy the pain by applying warm heating pads or warm wash clothes to the nipples right after a feeding. But other times, you may need medical intervention from your physician," she says. Frida Mom Instant Heat Reusable Breast Warmers instantly heat up in three seconds and stay warm for up to 20 minutes.
Tongue Ties
The symptoms: When the baby's frenulum (that little piece of tissue that connects their tongue to the floor of their mouth) is too tight, it can affect their ability to feed properly. "It inhibits the baby from opening their mouth widely. In addition, it will often cause cracked, bloody nipples because the frenulum is cutting the nipple.
How to fix it: Seek out a professional (a lactation consultant, pediatrician, or pediatric speech therapist) who has the skillset to assess a tongue tie. If necessary, it can be treated surgically, depending on its severity.
Mastitis
The symptoms: When your breast is inflamed, hot, red, or swollen, you're experiencing a fever. "This type of infection usually happens because the breastmilk is not draining well," says Peterson.
How to fix it: See a physician if you're not better in 24 hours. "They may need to prescribe a course of antibiotics," she says. "Even with medication, it's common for the pain to continue for three or four days, and suddenly, there's relief. The mom should continue to breastfeed. If it's too painful, she can try pumping the breast as it's imperative to get the milk flowing and support the supply until your mastitis clears up."
Clogged Ducts
The symptoms: Otherwise known as plugged ducts, these feel like a firm lump in the breast that feels sore and hot to the touch. "There are little obscure things that can cause a plugged duct. Sometimes it's the baby's position where they're just not draining one side of the breast for some reason. Sometimes it can be from a bra with underwires where there's pressure or a baby carrier if you have a front pack and it's pressing on the sides of the breast."
How to fix it: You can apply a warm compress to the breast and gently massage it before feeding. "Sometimes you can rotate the baby, so their chin is pointing toward the plug to help relieve the clog," says Peterson. The LaVie Lactation Massager can give your hands a break, plus it's waterproof to use in a warm shower to help loosen up clogs.
Blebs
The symptoms: A bleb on the nipple looks like a blister. Though it seems white and fluid-filled, it's not a pimple. "There are several holes from the nipple that spray milk, and one of them can get almost a little callous or a piece of skin over it," says Peterson.
How to fix it: "Soaking the nipple in a warm Epsom salt mixture can help cleanse the wound and speed up healing. Some moms will put coconut oil on their nipples to soften the area. It should typically heal on its own, but if the pain is too much, a healthcare provider can help get that little skin off," she says.
Nipple Damage
The symptoms: Cracked, bleeding nipples from pumping often happen when either the nipples aren't correctly centered inside the flange, you're using the wrong flange size, or you're not using the correct speed/technique on your pump.
How to fix it: "First, you want to ensure that the nipple isn't rubbing in the flange. This means your flange is too small. If your areola — the dark skin around your nipple — is getting pulled into the flange, that means it's too big. Brands like Evenflo has multiple flange sizes with their pumps to choose from," says Peterson. Most pumps will come with one or two standard sizes, so know you can customize your experience. After making sure your nipple is centered in the flange, "you don't want to pump up the suction immediately. You need to stimulate a letdown like your baby would at the breast with a fast speed at a low suction for the first two minutes — or until the milk begins to drip. Once the milk is flowing, you crank up to the suction as high as possible without discomfort," she says.
View this post on Instagram
Thrush
The symptoms: This is a yeast infection that can happen in the baby's oral cavity or your nipple. On the baby, it will look like white, fuzzy patches in the baby's mouth. For the mom, thrush can appear as itchy, burning nipples that look blistery and cracked. "A real common cause is if the mom gets antibiotics during labor or C-section and it throws off their flora," says Peterson. It can also happen to the baby first: "If the baby is starting solids and still breastfeeding, there could be food residue in their mouth while nursing. Or, if you're using nursing pads and they get leaky throughout the day, it creates that warm environment where bacteria loves to grow," she says.
How to fix it: Your doctor will likely prescribe an anti-fungal medication. It's essential to work with your OB and your pediatrician to treat thrush for both you and your baby, so you don't continue to pass it back and forth. Keep the baby's mouth clean after solid food using a soft finger toothbrush like The Brushies, which will also massage their achy gums.
Nipple Size
The symptoms: If your nipples are too large for the baby's mouth, you may notice an improper latch that's distorting the shape of the nipple and creating breastfeeding pain.
How to fix it: "You can work with a breastfeeding helper to try to overcome this obstacle with careful positioning of the baby while nursing. Sometimes in those situations, moms need to support their milk supply with a hand expression or pumping so they can keep their milk and feed it to their baby. And as soon as that baby starts growing and their mouth gets a little bigger, we transition them back to just breastfeeding," says Peterson.
Milk Supply
The symptoms: You could experience painful breast engorgement from an oversupply or not feeding/pumping often enough. "The baby might be clamping down on the nipple while nursing to try to slow down the milk," says Peterson. On the other hand, "if the mom has a low supply, that means the baby when they're at the breast, they're not usually having consistent swallowing. So they have to do more little sucks before they can swallow, which can end in nipple pain," she says.
How to fix it: For an oversupply, "if the baby is sputtering during the feed from too much milk, I'd first recommend pumping before feeding. On the flip side, that might tell your body to produce even more milk, which can be tricky. With a low supply, you want to ensure adequate milk removal," so that might mean pumping after a feed to empty the breast fully, says Peterson. Barring any underlying medical issues for the mom, "I'd also adjust the mom's pumping or breastfeeding frequency. As long as baby is feeding correctly and often enough, usually the supply works itself out," she says.
Teething
The symptoms: Though breastfeeding is still possible while growing teeth, the baby may clamp down to soothe their sore gums.
How to fix it: Massage the baby's gum with a clean finger or a cold, clean washcloth to help soothe their gums, so they're relaxed before feeding. You can also consider doing some hand expression to get your milk going so that baby can settle into nursing more smoothly.
How to avoid breastfeeding pain
There are many reasons breastfeeding can go awry during your journey, but there are plenty of ways to find support. "It's helpful to take a class at the hospital you're delivering or a class online about best breastfeeding techniques," says Peterson. "Especially if you have medical issues, like a thyroid condition, it can be a good reason to sync up with a lactation consultant before beginning your breastfeeding journey to ensure their milk supply gets established well and avoid complications. Then, we can work with you ahead of time rather than trying to fix a problem," says Peterson.
---
We only recommend products we have independently researched, tested, and loved. If you purchase a product found through our links, Sunday Edit may earn an affiliate commission.
Sundays should be special.
Sign up for the Sunday Edit newsletter to stay in-the-know on all things skincare and beyond.