I used to say that I was a walking WebMD of all the symptoms that a pregnant lady could possibly have (sciatica, heartburn, hip pain — you name it). Luckily throughout my life, I've had very little drama with my skin, until pregnancy hormones struck once again. In addition to some newfound acne, I noticed skin discoloration on my cheeks, and my dermatologist chalked it up to melasma. While it can certainly happen to people who aren't pregnant, melasma affects half of the pregnant women. For how common it is, I've surprisingly heard very little about melasma until I experienced it myself.
In the grand scheme of all the pregnancy-related symptoms that I endured, admittedly melasma wasn't the most important thing on my list (and it soon faded after giving birth), but I wish I had known some of the ways to take extra care of my skin to help the healing process postpartum — and save me hours of frantically Googling. So, particularly if you're expecting a coronababy soon, read on to see advice from Robyn Gmyrek, MD, a board-certified dermatologist at Park View Laser Dermatology and Nikoleta Brankov, MD, a board-certified dermatologist on everything you need to know about this so-called "pregnancy mask."
What is melasma?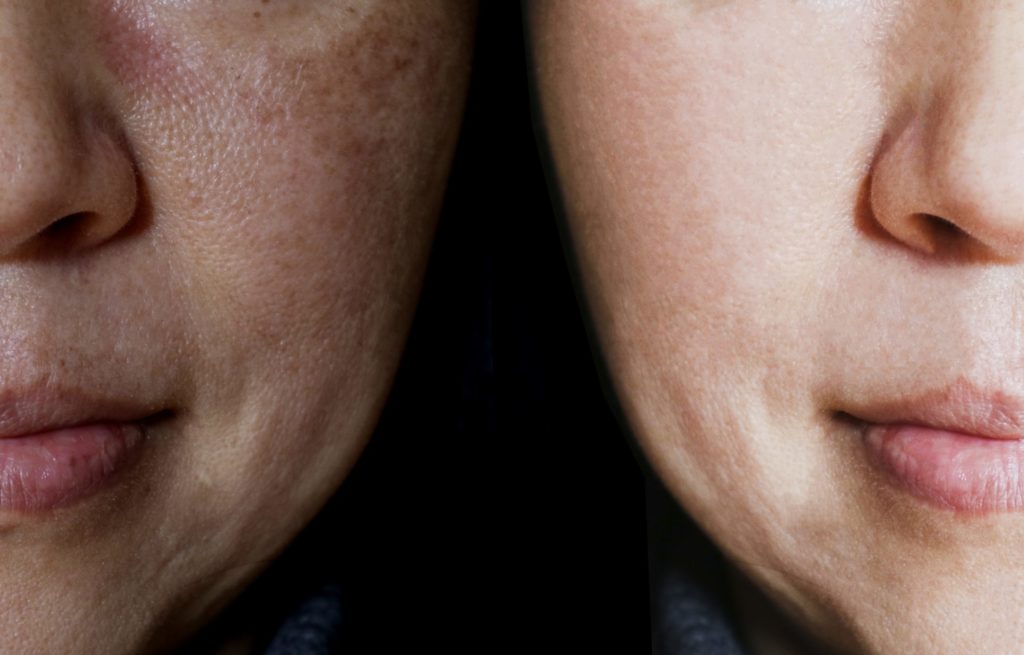 Melasma (also known as chloasma) "is a condition where localized pigmentation of the skin occurs, usually seen as grey-brown patches of discoloration. It is most often symmetrical, on the forehead, cheeks, bridge of the nose, upper lip and occasionally on the neck, chest and forearms," says Gmyrek.
Why does it occur?
The exact cause isn't known, but your derm will have some hints: "Those who experience melasma have a genetic predisposition to the condition. In addition, it seems that female hormones play a role as 90% of people who suffer from melasma are women," says Gmyrek. It's a common occurrence during pregnancy because your hormones are encouraging melanin-forming cells, called melanocytes, which produce too much melanin. They even nickname melasma "the pregnancy mask" because of how likely it is to affect pregnant women. "It's also common for people with darker skin tones and those with a history of intense sun exposure", she says. According to studies, people of Hispanic, Asian, and African descent are particularly prone to melasma.
How is it different from hyperpigmentation?
Hyperpigmentation is an overarching term for any type of discoloration on your skin (like freckles and sunspots). Melasma is another specific subtype. The main difference between melasma and other types of hyperpigmentation is because of its root cause: it's not just related to the sun's effect on the skin, but also because of the hormonal changes in your body. "Melasma can be commonly mistaken for other types of post-inflammatory hyperpigmentation: discoloration caused by eczema or seborrheic dermatitis, as well as post-blemish acne discoloration," says Brankov. "Melasma is also commonly mistaken for lentigines or sunspots," adds Gmyrek.
How does a derm know it's melasma? Is it possible to diagnose virtually?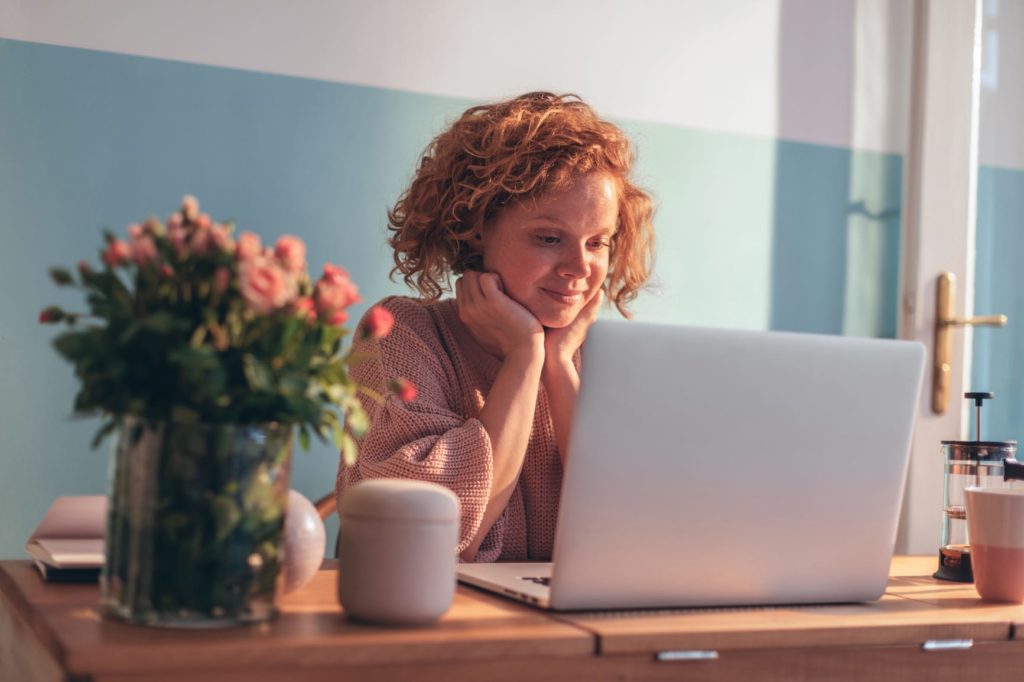 "A dermatologist will take the history of the patient, look at the location of the pigmentation and the clinical appearance of the discoloration on examination and consider all of this information when making the diagnosis," says Gmyrek. It's possible that your derm will be able to diagnose your melasma virtually given you have clear video and photos of your skin, but, if possible, it's best to be seen in person: "While you don't need laboratory tests or biopsies to diagnose melasma, a small device called a Wood's lamp can be used to help distinguish between the epidermal or dermal subtype of melasma," adds Brankov.
How can you avoid it?
It's obviously hard to avoid hormonal changes in the case of pregnancy, but if you happen to be taking any medications or prescriptions that alter the state of your hormones (like hormone-based birth control), it could be a reason to ask your doctor if you should explore other options. Sunlight exposure definitely plays a role and you can be proactive about UV protection. "The most important recommendation for all of my patients with melasma is sun avoidance by using a broad-spectrum sunscreen — at least SPF 30. I favor using a physical sunscreen blocker that contains either titanium dioxide or zinc oxide," says Brankov.
How can you treat it?
The way you treat melasma depends on how severe the condition is and your unique skin type and history. There might be one option that works for you, but for more severe cases, a combination of over-the-counter and in-office procedures will do the trick. "For example, I might have the patient take an oral prescription, apply topical treatment, and also perform a series of laser treatments," says Gmyrek. Below, our pros outline a few of the most common options.
Over the counter:
"Melasma is treated with topical treatments to try and lighten the skin. Ingredients which are effective include hydroquinone, which is available over the counter (and in prescription strength), kojic acid, azelaic acid, vitamin C, retinol, and retinoic acid," says Gmyrek. You may want to proceed with caution when it comes to hydroquinone, which is a skin-lightening agent. Though it's widely used in the U.S. and FDA-approved, it's banned in Europe, Australia, and Japan because some studies in rodents showed a potential link to cancer-causing properties. To err on the side of caution, any products that tackle discoloration and encourage skin cell turnover can help, like Sunday Riley A+ High Dose Retinoid Serum, C.E.O. 15% Vitamin C Serum, Good Genes All-in-One Lactic Acid Treatment, or C.E.O. Vitamin C Rich Hydration Cream
.
Something worth reiterating: "A broad-spectrum sunscreen and sun avoidance are key. Any sun exposure will lead to a relapse of melasma. So, even if we are successful with a treatment course, patients with melasma are always at risk for recurrence. This condition is chronic with frequent relapses," says Gmyrek.
At the derm's office:
"Usually, prescription creams are given as a first-line treatment. I prefer a combination cream which is available by prescription called TriLuma cream. It combines 4% hydroquinone with a retinoid and a steroid cream. I have patients use it under my supervision for eight to 16 weeks," says Gmyrek. If you do decide to go the route of a hydroquinone-based cream, you should always use it under the supervision of a medical professional. "If they are used for long periods, they can actually worsen pigmentation on the skin," says Gmyrek. If you're concerned about the side effects of hydroquinone, talk to your derm about going a different route, like a stronger retinoid-only-based cream, to start.
"In-office chemical peels can help remove some of the pigmentations and also enhance the penetration and effectiveness of your topical treatments. Be very careful who you allow treating your skin if you have melasma. Heat and inflammation can worsen melasma, so it usually takes many lower energy treatments or lighter chemical peels, as opposed to one strong treatment, to improve melasma," says Gmyrek.
"Laser treatments are very tricky for melasma because they can also make the melasma worse. Laser treatment for melasma should only be done by experienced physicians. My first choice for laser treatment of melasma is a light Fraxel laser called a Clear and Brilliant. I use the 1927 Permea handpiece. This is a low-energy Fraxel that penetrates allowing for the removal of pigmentation that is beneath the skin surface. Usually, this requires about five monthly treatments," says Gmyrek.
If you're pregnant, it's best to speak with your derm and your OB/GYN about the best course of action: "There are no well-controlled studies in pregnant patients looking at bleaching agents, laser treatments, or chemical peels. So, I cannot say that it is safe to use products containing hydroquinone, or even get chemical peels with glycolic acid. While there is no evidence that they do harm, there are not any scientific studies in pregnant women confirming safety," says Gmyrek. "For pregnant patients, I recommend that you start by treating it with azelaic acid," adds Brankov.
Do I need to avoid specific ingredients in my normal skincare routine?
You don't have to do anything different with your regular skincare routine if it's working for you, but you may want to be more diligent about patch testing new products or ingredients. "There are no specific skin care ingredients that I would recommend avoiding. However, if any product or ingredient is irritating to you, causing redness, stinging or irritation, I would discontinue use. If you cause inflammation of the skin over a patch of melasma, you can cause a worsening of the pigmentation," says Gmyrek.
Are there any side effects of having melasma?
Luckily melasma doesn't have any side effects. "It is not painful or itchy. However, it can have a huge psychosocial impact on those experiencing it if they do not like the appearance of this pigmentation on their skin," says Gmyrek. If it doesn't bother you, however, there aren't any consequences to leaving your melasma untreated. And, in the case of getting it while you're pregnant, it usually fades after postpartum when your hormones regulate.
We only recommend products we have independently researched, tested, and loved. If you purchase a product found through our links, Sunday Edit may earn an affiliate commission.
Sundays should be special.
Sign up for the Sunday Edit newsletter to stay in-the-know on all things skincare and beyond.