Online dating has replaced meeting partners through friends, family, work or other personal connections. Most heterosexual couples today meet online, per research from Standford New, which has both thrown sociology researchers and excited matchmaking technology developers. With new apps surfacing constantly, how are we meant to navigate the online world of dating? Today, 39 percent of heterosexual couples and 60 percent of same-sex couples using dating sites to get together, they must be doing something right! As a sex and relationship coach, I have researched all the new dating apps and polled my audiences to see which ones worked best for them. Below is our ranking from best to worst.
Hinge
When I polled my IG audience about which dating apps they used successfully, Hinge was by far the most popular answer. Hinge has fun prompts built into each profile that encourages playful conversation between matches. Since a solid opening is crucial when meeting new people online, this feature makes reaching out easier than ever. Win! Also, the main goal of Hinge is to delete the app because you have found a match. And with no membership fee, what is not to love!
Tinder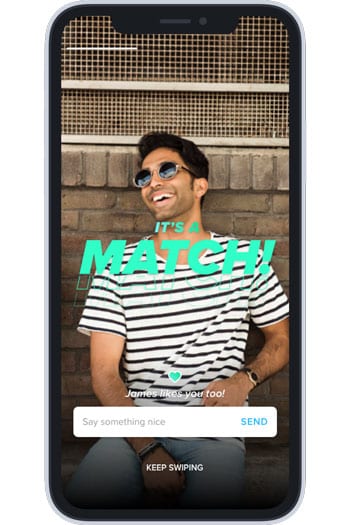 I know what you are thinking: Tinder is strictly for hookups – but you would be surprised! While Tinder has a reputation for hitting-and-quitting it, there is a large audience of subscribers who are looking for more than just fooling around. A coworker of mine married someone she met on Tinder and I have heard similar soulmate-finding stories. A peer who is a trans woman said she has had the most success on Tinder. Especially with premium features like Tinder Plus, this app connects people more efficiently than ever. According to a close friend, Tinder users are more eager and willing to meet in real life to see if you are a match.
Bumble
It is a woman-centric dating app and, as a woman, I really enjoy that. This app is designed for women to easily and safely navigate the dense wilderness that is dating. The main difference with Bumble versus other apps is that they are flipping the heteronormative script — female users have to reach out to male users to initiate conversation. That means no unconsented dick pics or scumbag users. As a woman, it is empowering to lean into my autonomy and choose which matches I wish to connect with. In a way, Bumble is an example of the reclamation of women's romantic power. On a more inclusive note, if you connect with someone of the same sex, the "women initiate first" rule does not apply. The intention to date is definitely felt here, and people of all sexes are encouraged to use it.
Feeld
When reviewing my online surveys, I was pleasantly surprised to see how many people said they used and loved Feeld. Previously known as a throuple — a romantic relationship between three people — app, Feeld has expanded, and in my opinion, caters to as many demographics as possible. Feeld is by far the most gender- and sexually fluid dating app I have encountered. It welcomes open-minded communities with open arms with its mission: to normalize sexuality by exploring ethical nonmonogamy, exploring your kink or following your curiosity. Before entering Feeld, you have to accept an ethics guide that prioritizes consent, nondiscrimination, privacy and more. I highly recommend this app for people who are tired of the old dating apps.
OkCupid
It has been around for almost 16 years and still delivers quality matchmaking services with an updated and modern interface that is sleek, easy to use and inclusive. OkCupid is a happy medium for people who are tired of Tinder but are still looking to date. This is another app where users are highly motivated to meet up in real life – a highly desired characteristic in the dating app realm. OkCupid is straightforward, easy to use and curates better matches the more you engage with it.
Instagram
It is not an official dating app, but I would argue that Instagram is a great way to meet new people. In my opinion, it is like combining meeting through friends and online dating without being as off-putting as Facebook. Instagram is an easy way to engage with people who share common interests such as art, fashion, music or lifestyles. You are sure to stumble across people whose goals and values align with yours. Replying to someone's story or respectfully sliding in a DM could be all it takes to connect with your future boo. Shoot your shot!
Raya
Raya is a more elitist dating app (you have to apply and be approved, adding to its exclusivity) that usually leaves people in romantic purgatory, continuously waitlisted to join. The perks are being able to match and potentially flirt with a celebrity or industry innovator. The negatives are flakey people, time-limited swiping and generally boring conversation. The reviews for this app are discouraging, to say the least. Most people complain about not being able to join and the ones who use it say it is not the best for matching due to less efficient algorithms and pretentious users. Plus, it is mostly used for casual hookups. These characteristics mentioned are all from my online survey. My advice? Use Tinder or OkCupid instead.

We only recommend products we have independently researched, tested, and loved. If you purchase a product found through our links, Sunday Edit may earn an affiliate commission.
Sundays should be special.
Sign up for the Sunday Edit newsletter to stay in-the-know on all things skincare and beyond.