After 10 years as an American in Paris (via New York), there are cultural habits you adopt — always say "bonjour" when you enter any establishment; wine at lunch does *not* signify a drinking problem. And others you just can't get behind — no, I don't want to give you "la bise" (a kiss on each cheek) when meeting you for the first time, stranger man. Merci, Covid, for putting the kibosh on that custom.
Where my own practices align perfectly with Paris is their basic beauty look: minimal, effortless, and unfussy. Being Korean-American, skin has always been my priority, not makeup. Occasionally, I rocked a smokey eye for a big night out in New York, but on the daily? A coat of mascara and a swipe of lipstick, usually red — or nothing. I leaned hard into Kate Moss's bare face and see-through slip dress moment from the mid-'90s.
Meet the Experts
Saloi Jeddi is a Paris-based makeup artist and founder of the Sohuu One Kit.
Au Naturale
According to Paris makeup artist and founder of the Sohuu One Kit, Saloi Jeddi, "Paris has one look. It's good skincare, light foundation, mascara, a bit of brown blush and a nude or red lip. We don't use eyeshadow, maybe a liner sometimes. Basically, five products."
France and I don't agree on many things, but oui, oui to being as natural (read: lazy) as possible about our makeup routine!
But then, I moved to Los Angeles, the place where another N.Y.-to-L.A. transplant once joked to me, "They give away boob jobs as soon as you land at LAX."
I love my new home. I love palm trees and palo santo and how septuagenarians talk about getting downloads from the other side at family dinners. I love the constant warmth and sunshine, unlike Paris which averages 170 days of rain annually. The most fantastical thing about Emily in Paris isn't how hot and bilingual chef Gabriel is, it's how they filmed three seasons on only sunny days.
Extra Everything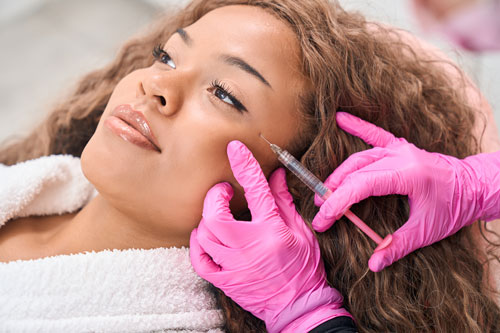 But I'd be lying if I didn't admit it's jarring to go to a sound bath or Whole Foods and see women from the ages of 25 to 55 all look about 35 because of the brows, the boobs, the lips, the lashes, the butts, and the Botox. Where Paris's "one look" is minimal, L.A. is most definitely the opposite.
"Here, everyone wants to look like they're on top," says L.A.-based makeup artist and hairstylist Tatiyana Elias. "It is very much a show and everyone has the same look. Whether you're going to Equinox to work out or heading to Alfred for a matcha latte, you go looking your best."
If Jane Birkin, with her undone bangs and haute-hippie style, is the OG icon of French Girl Beauty (ironic because she's natively British), no one exemplifies L.A. excess better than Kim Kardashian. This is a woman who does at-home laser treatments after everyone else goes to sleep and who unabashedly told the New York Times she'd eat poop if it made her look younger. She wears more makeup for a day at the beach than I've ever worn in my life, cumulatively. Props to Kim since this is a level of beauty dedication I will never unlock. Though I, too, would probably consume poop if it came with youth-giving guarantees.
Is it inauthentic or am I expressing the culture of each town, through the inevitability of osmosis?
I'm pretty much brow-less, butt-less, boob-less, and lash-less. I've tried Botox one time, five years ago. A cosmetic nurse acquaintance recently told me my lips are naturally full so I don't need fillers, but maybe I should consider Botox to make my masseter less masculine. Um, thanks?
I'm old enough to be comfortable in my less-than-perfect skin, but vanity doesn't escape me, either. I was once papped in West Hollywood while exiting a workout class with a famous friend and yikes — celebrities can't be just like us because without a full face of makeup, an actual coiffure and a flawless body in designer athletic wear, you look like the unkempt, middle-aged mom you are through a paparazzo's unforgiving telephoto lens.
I'm paralyzed as I think about which beauty standards I want to adhere to — Paris or L.A.? What I find interesting, after speaking to Jeddi and Elias, is they both believe the other city's aesthetic is more individual or authentic.
Jeddi tells me, "It's more exciting to see people in L.A. It's completely different from Paris, which is classic. L.A. is more eccentric."
For Elias, "Paris is so different from L.A. They're naturally cool there and not putting on a show. In Paris, it's an actual lifestyle while here it's a facade."
Applying Confidence
As someone between both places and who's spent a lot of time in other metropolises (New York, Seoul, Philadelphia), I believe environment, culture, and choice are so entwined it's hard to know the difference between the true individual and the facet that's elicited from being surrounded by "one look." In New York, I wear black and high heels and feel more highbrow because my friends are into books and Broadway. In Paris, I favor low-key outfits that don't draw attention on the metro while I defiantly stare down at the people who look askance at my platinum blonde hair. In L.A., I'm in overly pricey sweats and prefer listening to an audiobook than actually reading words on a page. Is it inauthentic or am I expressing the culture of each town, through the inevitability of osmosis?
Since being in L.A., I periodically fantasize about microblading because my brows never came back from the '90s. I vacillate between growing out my grays and becoming a #silversister or giving into my not-so-secret addiction to plastic surgery before-and-afters and the #deepplanefacelift surgeons on Instagram. My partner and his entire family, from geriatric parents to grown kids, work out regularly. They all marvel at my French-learned tendency to just… not.
What usually wins out is habit and inertia. For me, anyway. My skincare routine is encoded in my Korean DNA, but I still can't manage more than mascara and lipstick, if I wear makeup at all. Maybe you can't take the expat out of Paris when it comes to beauty, but talk to me after I've been in L.A. for 10 years. I may become one of those ageless wonders you spot in your Kundalini class.
Shop Skincare Essentials
---
We only recommend products we have independently researched, tested, and loved. If you purchase a product found through our links, Sunday Edit may earn an affiliate commission.
Sundays should be special.
Sign up for the Sunday Edit newsletter to stay in-the-know on all things skincare and beyond.